Flexible and versatile
The Zebra family of mistblowers offers the convenience of a linkage mounted sprayer with the power of a trailed machine.
These compact and efficient mistblowers are available with a 400, 600 or 800 litre tank, and a range of fan and turbine choices. With a choice of HARDI air kits, from deflectors to directional nozzles, ZEBRA can be configured to suit almost any type of crop.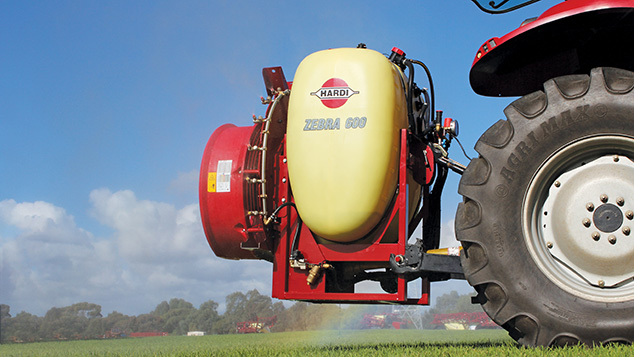 Features
Easy to operate

ZEBRA is reliable, robust and easy to operate. The chassis and tank have been designed to have a low centre of gravity that is stable in narrow rows and on sloping blocks. The fluid controls can be monitored from the tractor while spraying, and are easy to access for servicing.

ZEBRA's compact, curved profile is less likely to snag overhanging vines or branches as the sprayer passes down the rows. The tough, chemical- and sunlight- resistant polyethylene tank has smooth, curved inner surfaces that leave nowhere for residual chemical to collect.

The chassis itself features a wide, flat base that makes the sprayer very stable when taken off the tractor and stored.

Choice of spray systems

ZEBRA can be set up to protect almost any crop, from trellised vines to tall fruit or nut trees. The air induction system has been optimised to provide maximum airflow with the lowest possible power consumption and noise.

The high quality output volume enables higher forward speeds without compromising range or penetration.

Upper V-deflectors and adjustable bottom deflectors will direct the airflow onto the target trees with a minimum of waster or drift. Or ZEBRA can be configured with a range of hydro-pneumatic ducts and nozzles or spouts, to atomize and direct the spray directly into the crop canopy.
Enquire Now!