Cost-effective volume
ZATURN mistblowers have been designed to provide capacity and power for growers who don't need the flexible options and sophistication of the Mercury range.
Available with tank capacities from 1,000 to 3,000 litres, ZATURN can be configured with a range of air kits and spray systems to suit most crops and conditions.
The entire system is designed around a robust HARDI diaphragm pump that is specially designed for agrichemical application. Grease lubricated, the pump is simple to maintain and can be run dry without damage.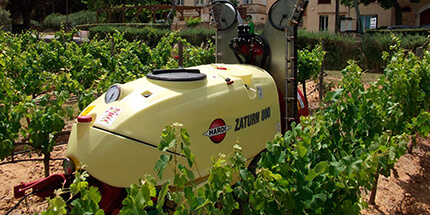 Features
Streamlined design

The ZATURN design is slim and streamlined, making it ideal for passing between closely spaced rows without catching or damaging valuable plants. The tank and chassis provide the lowest possible centre of gravity to ensure stability on sloping ground and when turning in headlands.

The ZATURN 1500, for example, is perfect on small and steep properties. It offers excellent stability and is just 1350mm wide.

The tough steel chassis is protected against weather and chemical corrosion, while the UV-stable polyethylene tanks are smooth, seamless and long-lasting.

All models have a 15 litre Hand Wash Tank for operator hygiene, and an optional 70 litre Rinse Tank for in-field cleaning.

Air and fluid options

ZATURN offers a wide choice of air and spray options that makes the family suitable for spraying any orchard or vineyard crop.

The sprayer can be fitted with a 750mm or 850mm axial fan featuring the latest synthetic fan blades for performance and safety. Engineered to maximise airflow, the axial air systems work with stainless steel deflectors to direct spray into trees.

A range of hydro-pneumatic nozzle systems can also be fitted, using a turbine fan that produces high speed, high pressure air for atomizer spout and nozzle systems that ensure superior penetration even in fully developed canopies.
Enquire Now!