Designed for residential or professional users that demand superior durability, comfort and performance, Kubota's Z400 series zero-turn mowers deliver all this and more, using powerful engines matched with rugged transmissions, smooth operation levers, and, of course, Kubota's reputation for outstanding reliability.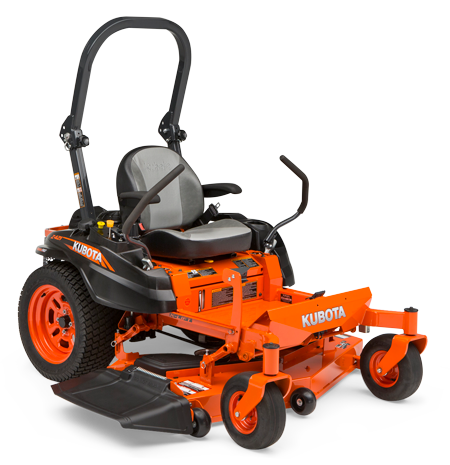 Features
Performance

The Z400 Series comes equipped with powerful Kawasaki engines that provide the torque you need to power through tall grass and rugged environments.
Power from the engine is delivered to the wheels through a rugged, commercial grade transmission, designed to stand up in heavy duty applications
Dual operation levers can be adjusted to each operator's needs, providing smooth, precise control and less fatigue at the end of the day.
Steering lever damper force can be easily adjusted to ensure optimum comfort for every operator

Comfort

Soft and roomy, the high back suspension seat will keep you comfortable even on those extra-long mowing jobs
Charge your phone or other accessory while mowing the lawn. The Z400 also has an integrated smart phone holder
There's plenty of legroom up front, thanks to a wide foot pan
All controls are ergonomically arranged for quick identification and simple operation
A simple twist of a dial lets you adjust the cutting height in precise 1/4" increments

Mower Deck

Steel welded mower deck provides outstanding, professional-level cutting performance. A reinforced spindle mount area ensures durability

The K-Lift pedal lets you quickly and easily adjust the cutting height. Simply press the pedal and turn the adjustment dial
Gallery
Enquire Now!