Clear your property for seeding with the Wheel Loader Rock Picker. If you have ground riddled with rocks, you need this innovative attachment to remove them cleanly and efficiently. Ideal for rocks between 100 and 500mm diameter (can handle larger sizes too).
The Wheel Loader Rock Picker boasts high tensile solid bar construction and integrated high torque motor for incredible rock picking ability. Significantly reduce working time with a hefty load capacity of up to 2350 kg (machine dependent).
For work continuity and peace-of-mind, this Australian-made loader attachment utilises shock absorption springs for impact reduction, protective motor housing and robust bisalloy fingers. We have also designed a high-strength rotational reel so the rock picker can handle the intense workload and effects of rock removal.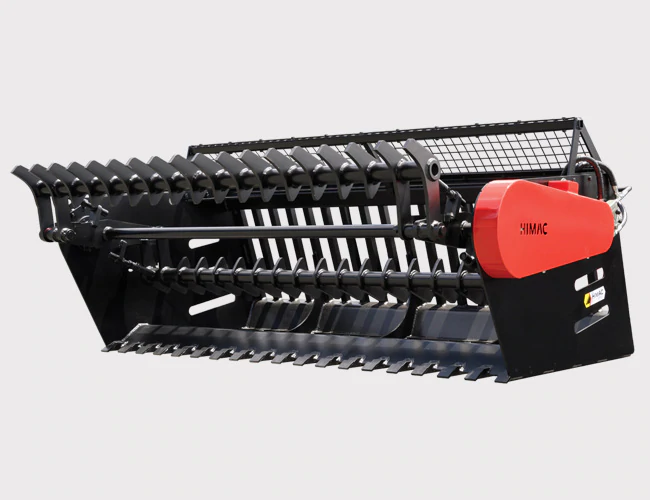 Rock Picker Features

EXTREME DUTY
Suitable for…
Wheel Loaders
Telehandlers (over 3 ton lift capacity)

Working width:
2400 mm / 84″ (2540 mm overall)
1.65 m3 volume
Optimal rock size: 100 – 500 mm diameter (can handle larger rocks)
DESIGNED AND MADE IN AUSTRALIA
40 x 40 mm high tensile solid bar tynes
Bisalloy catchment retainer
Rotating collector arm (bidirectional) with bisalloy fingers
Handle loads up to 2350 kg (depending on machine capability)
Tyne spacings allow generous sifting
Enhanced impact reduction through shock absorption springs
High torque hydraulic motor – only 40 LPM flow required
Complete housing protection for motor
100 mm working depth
Includes pressure relief valve, hoses and couplings
Rear mesh guard for increased visibility
Includes Wheel Loader quick hitch – other hitch types POA
Additional sizes and models to suit skid steers / track loaders, tractor loaders and telehandlers

Choose Wheel Loader Mount

Case
Caterpillar
JCB
Komatsu
Liugong
Ranger
Volvo / Kubota
Yanmar
WCM
Enquire Now!