Wheel Loader Power Rake Bucket
Combining sifting ability with pushing power, the Wheel Loader Power Rake is not there to be sniffed at.
Lock on this Australian-made wheel loader bucket for rock/stone removal, vegetation clearing and more. When it comes to making light work of tough land preparation work, you can rely on a Himac to get the job done.
This precision engineered wheel loader attachment is carefully constructed with 63 x 63mm solid bar tynes for extra grunt and ensured strength for reliable work time after time.
The tyne spacings allow thorough sifting and provides greater visibility when working with this seriously robust wheel loader rake bucket. You don't have to sacrifice safety and efficiency for the operator in exchange for power and build quality.
Experience the difference with Himac Attachments with a quick quote turnaround, exceptional value for money and long-lasting attachment quality. Once you go Himac, you never go back!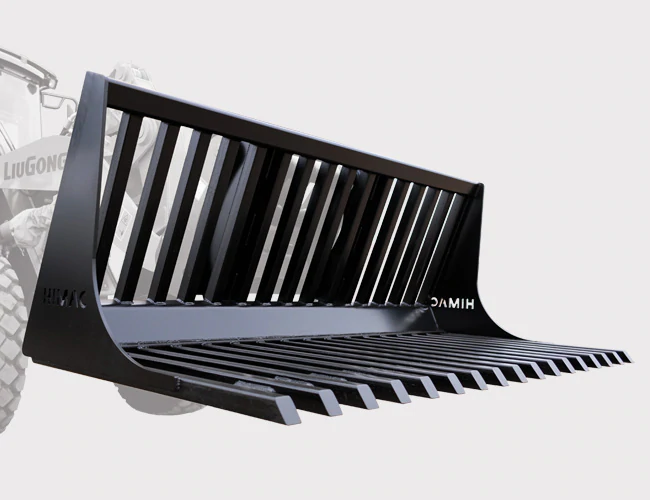 Features

Build for extreme duty use

63 x 63 mm solid bar high grade tynes – 115 mm spacings

Removed unwanted material through efficient sifting

Clearing fence lines / vegetation, dig stones / rocks and much more

Widths available:
2400 mm / 82″, 2700 mm / 94″, 3000 mm / 118″

Choose Wheel Loader Mount

Case
Caterpillar
JCB
Komatsu
Liugong
Ranger
Volvo / Kubota
Yanmar
WCM
Enquire Now!