Himac Attachments now offer our trusted and precision-engineered Auger Drive range to suit your Wheel Loader. Embrace the power of the planetary drive, locked tight with a Rock / Tungsten Auger, for accurate earth drilling using your wheel loader.
Boasting a non-dislodgement shaft, your augers are guaranteed to never fall out. This means you can hit the toughest ground with the peace of mind that your augers are at peak performance with every use.
These wheel loader auger drives are backed by three incredible warranties so you can be confident of your purchase.
Break through the tough Aussie environment with a Himac Auger Drive – you'll surely notice the difference when compared to other earth drills on the market.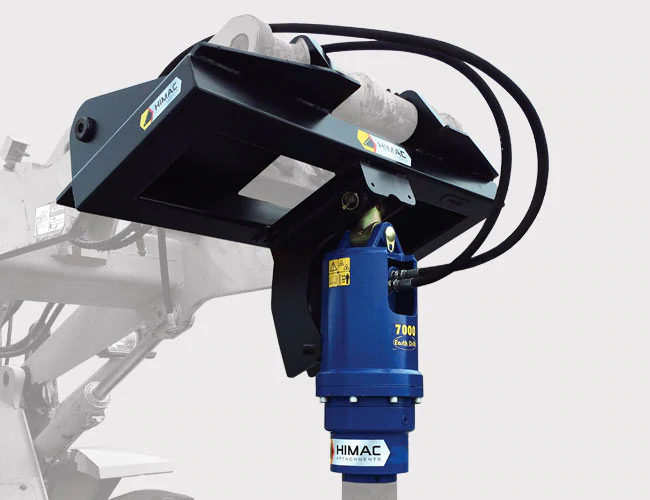 Features

Planetary drive

S5 – 75 mm Square drive shaft:
Suitable for Wheel Loaders, Ag Loaders, Excavators and more

Includes hoses and couplings – 2.2m length

Anti-swing cradle hitch
'Shock Lock' teeth system

Unique feature – Non-dislodgement shaft guarantees the shaft will never fall out

Pair with the right size Rock & Tungsten Augers to get the job done right

Wheel Loader Auger Drive Models

5500 MAX – 5477 Nm Torque, 3-4.5 T Machines, Suits 150-750mm S5 Augers
7000 MAX – 6931 Nm Torque, 5-8 T Machines, Suits 150-900mm S5 Augers
8000 MAX – 8152 Nm Torque, 8-13 T Machines, Suits 150-1200mm S5 Augers

Choose Wheel Loader Frame

Case
Caterpillar
JCB
Komatsu
Liugong
Ranger
Volvo / Kubota
Yanmar
WCM
Enquire Now!