Himac Tractor Stick Rakes are amazingly effective with their heavy duty high-grade steel construction and side wings. This stick rake is designed to be put through immense amounts of work in our extremely tough Australian conditions day in and day out without any signs of giving up. Ever.
A tractor stick rake is excellent for being able to tear through vegetation, including small trees, scrub and debris swiftly and efficiently whilst the generous 155mm spacing in between the tynes cleverly allow dirt, small rocks and other unwanted material to pass through making your clean-up quicker than ever. This clever design makes light work of tasks such as clearing land, fence lines and much more.
Himac Attachments have the right tractor stick rake that will go the distance for even the most heavy-duty applications. With the best machinery attachments on the market paired with incredible customer support, quote responses and delivery time, it's no wonder that Himac are the go-to attachment experts!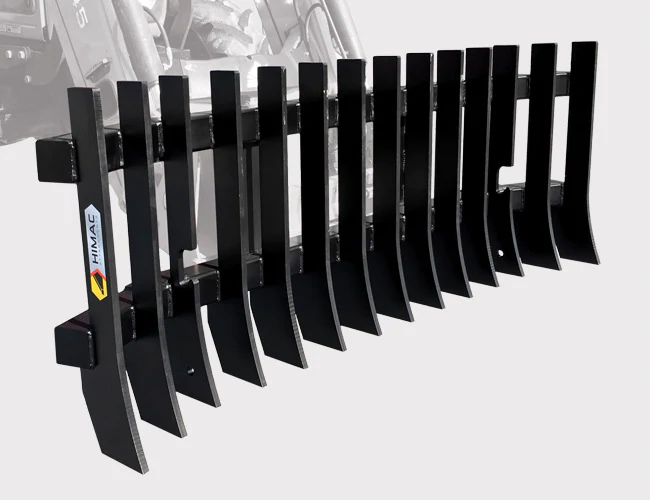 Push / Stick Rake Features

Robust construction with side wings

Ideal for clearing vegetation, fence lines, debris… etc

High grade steel tynes

155 mm spacing between tynes

900 mm height
Standard models – 100 x 16 mm tynes:
1800 mm / 72″, 2100 mm / 84″
Heavy duty models – 100 x 20 mm tynes:
1800 mm / 72″, 2100 mm / 84″, 2400 mm / 94″
Extreme duty models – 100 x 25 mm tynes:
2400 mm / 94″
Euro hitch as standard

Optional mounts

Euro
John Deere 500 CX
John Deere 600 / 700 Series Q Latch
Challenge Aus
Burder
Enquire Now!