Pick rocks like a pro with the Tractor Rock Picker from Himac Attachments.
Utilising its powerful rotating collector, you can save precious work hours and reduce the physical toll of rock removal. Designed to handle stones / rocks up to 500 mm diameter, this unique tractor attachment allows swift rock picking while sifting away unwanted dirt and debris.
With high grade materials and crafted right here in Australia from our workshop, this rock picker attachment for tractors is designed to work fast and work effectively in tough Australian conditions.
Featuring a high torque hydraulic motor, pressure relief valve and protective rear spill guard, you can be confident that this tractor rock picker is built to last, even when put through hell and back on a daily basis. If you need attachments that have got your back, you're needing a Himac!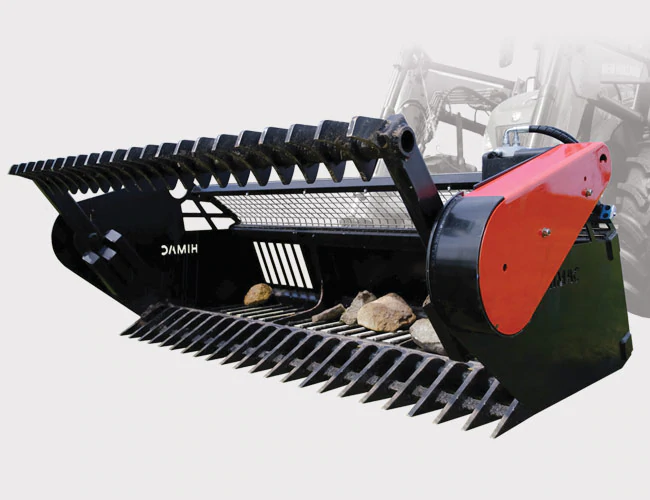 Rock Picker Features

HEAVY DUTY
Suitable for… 
Tractor Loaders over 150 HP
Telehandlers with 2 – 3 ton lift capacity
For machines up to 140 HP, see the standard duty Rock Picker
Working width:
2350 mm / 94″ – 1.1 m3 volume
DESIGNED AND MADE IN AUSTRALIA
Remove rocks and stones up to 500 mm diameter
High strength rotating collector arm for swift rock picking
Maximum sifting for clean and easy rock removal
High torque hydraulic motor and pressure relief valve
Includes hoses and couplings
Rear spill guard – maximum operating visibility
Working depth – 100 mm
Up to 1500 kg load capacity
Also suitable for small Telehandlers

Optional mounts

Euro
John Deere 500 CX
John Deere 600 / 700 Series Q Latch
Challenge Aus
Burder
Enquire Now!