Designed for almost any Tractor Loader, the Rock Bucket from Himac Attachments gives you the increase in efficiency you're looking for.
Built here in Australia with strong, high-quality materials, this rock bucket will stand the test of time, able to be put through its paces day in day out in our harsh Aussie environment without breaking a sweat.
And with heavy duty and extreme models available, we have a variant that will handle anything you can throw at it. Thanks to a flat bar design, a handy front lip to help keep your bulky material in, along with industry leading sifting and back blading performance, you'll get the job done right (and quicker) when you're using a Himac attachment.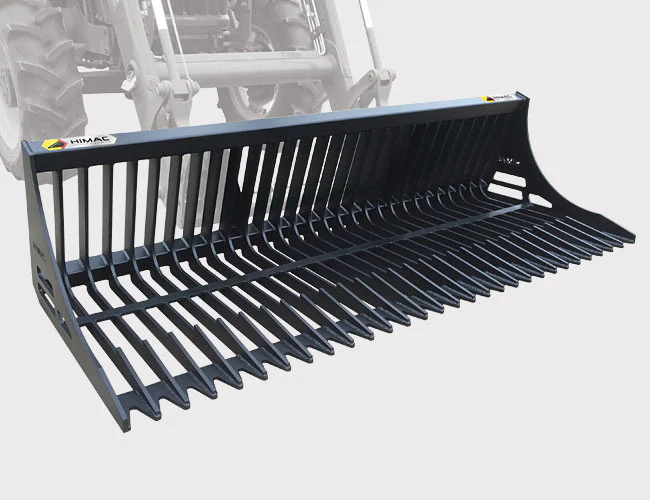 Features

Flat bar design allows maximum sifting
Front lip to hold rocks, branches.. etc
Greater back blading performance
AR36 high grade flat bar – 70 mm spacings
Heavy duty models – 12 mm thick tynes:
1830 mm / 72″, 2000 mm / 79″, 2240 mm / 86 ", 2400 mm / 94"
Extreme duty model – 12 mm thick tynes, Reinforced cutting edge:
2400 mm / 94″

Optional extras

Grapple Kits to suit Rake Buckets

Optional mounts

Euro
John Deere 500 CX
John Deere 600 / 700 Series Q Latch
Challenge Aus
Burder
Enquire Now!