Tractor Power Rake Bucket
The Extreme Duty Power Rake Bucket from Himac Attachments combines the pushing power of a Push Rake with the sifting ability of a Rake Bucket. Perform serious clean-up handling tough and heavy materials with ease thanks to the extreme duty design of this tractor rake bucket.
Designed and precision-made right here in Australia from high grade materials, this tractor attachment can handle up to 240HP of force behind it as it digs out stones and rocks or barraging through thick patches of vegetation, including small trees.
The 115mm spacing between the thick and solid 40mm x 40mm tynes allows for a more generous sift and increased visibility, giving greater control of this tractor bucket in your work area without any compromise to power and durability. Available in three different widths, there's a tractor power rake suitable for your application.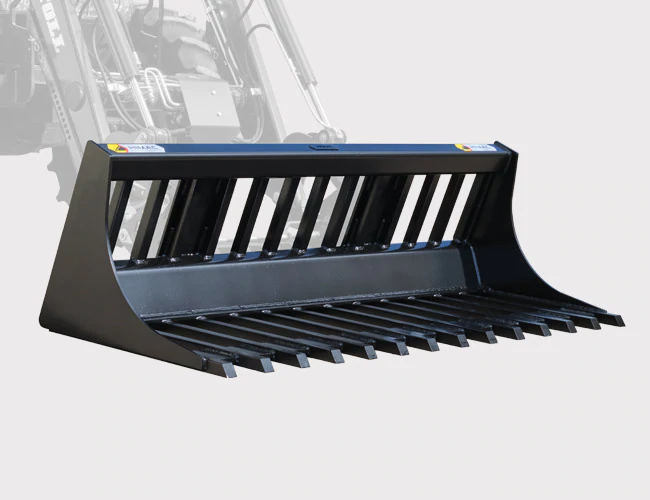 Tractor Power Rake Feature

Extreme duty design

Suits 80 – 230 HP Tractor Loaders
40 x 40 mm solid bar tynes – 115 mm spacings

Increased sifting ability to separate unwanted material

Ideal for clearing fence lines / scrub as well as digging out stones, rocks and more

Widths available:
1800 mm, 2100 mm, 2400 mm

Optional Extras

Heavy duty grapple with independent grapple arms

Optional mounts

Euro
John Deere 500 CX
John Deere 600 / 700 Series Q Latch
Challenge Aus
Burder
Enquire Now!