Get the functionality of our flagship push rake but with added lift capacity for handling logs and post-job clean-up. We call it the Tractor Lift Rake; it's as simple as push, lift and load!
Built in Australia for Australian conditions, this unique tractor attachment gives you efficient vegetation control (clearing fence lines, scrub, small trees…etc) and the ability to transport larger objects that cross your path.
The custom-designed 'L' shape tynes of the lift rake provides enhanced functionality over the standard push rake allowing the ability to pull out roots, lift logs, vegetation and large rocks and easier transportation of materials. The spacing in between the tynes allows for a sieve-bucket style action so you can continue to leave dirt / unwanted material behind when you lift.
Designed and constructed here in Australia from high grade materials, Himac Attachments are built tough, built to work and built to last. There's a reason why people who want to rely on their attachments day in and day without fail out are turning to Himac.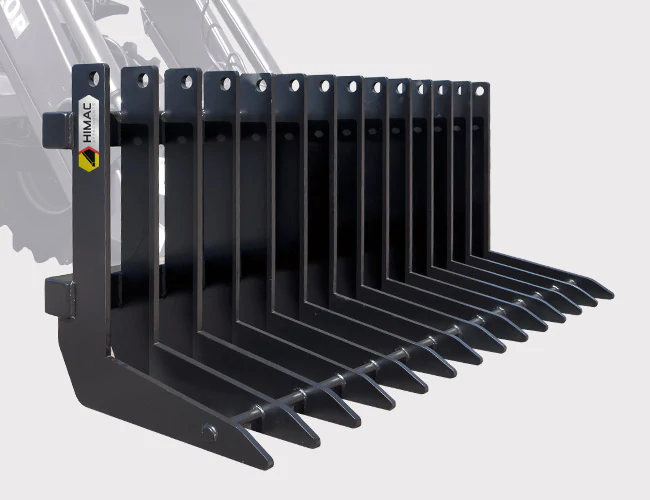 Lift Rake Features

Heavy duty construction

Clear vegetation, fence lines, debris and more

Custom 'L' shape allows lifting of logs, post-job clean-up, and other small / medium vegetation
High grade steel tynes – 125 x 20 mm

163 mm tyne spacings

900 mm height
Widths available:
2100 mm / 84″, 2400 mm / 94″
Euro hitch as standard

Optional mounts

Euro
John Deere 500 CX
John Deere 600 / 700 Series Q Latch
Challenge Aus
Burder
Enquire Now!