Tractor HaySpin Bale Spinner
A whole new way of feeding livestock – the Himac HaySpin Bale Spinner.
This innovative tractor loader attachment allows you to unroll round bales while reversing for effective hay distribution. Using hydraulic rotation, you can control the speed and direction of the unrolling action.
With its robust Conus 2 double spear fork, you can easily lift and transport your bale to any location, ready for unrolling. Due to the unique design of the Bale Spinner, you won't leave any to waste as a single bale can be used across multiple areas.
One of the most important features of the HaySpin Bale Spinner is the ability to distribute partial or complete bales over the fence. This is a real time-saver, reducing the need for constantly entering / exiting the vehicle to move fences as well as removing risk of livestock escaping.
To best suit your Tractor Loader, our Bale Spinner attachment is available in a range of mounting options available including Euro, John Deere, Kubota and more. Himac also offer models designed for Skid Steers, Telehandlers and Linkage Tractors.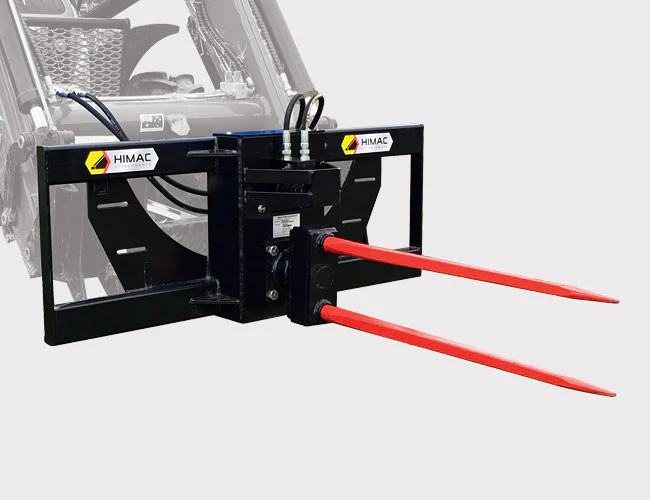 HaySpin Bale Spinner Features

Designed for precise unrolling and placement of round hay bales
Using a single bale across multiple locations means no wastage
Allows over-fence bale distribution
Highly economical method for feeding livestock
Control rotation direction with hydraulic motor and cushion valve
Utilise the double spears for swift bale penetration and stability when transporting
1200 mm removable Conus 2 spears
Includes hoses and couplings
Euro hitch as standard

Optional Extras

Flow Control to adjust speed

Optional mounts

Euro
John Deere 500 CX
John Deere 600 / 700 Series Q Latch
Challenge Aus
Burder
Enquire Now!