For a true blue Chain Trencher that won't let you down, look no further than Himac. Now available for Tractor Loaders, the Himac chain trencher offers different chain options and varying dig depths so you can cut through the ground no matter what you're faced with.
Talk to the team at Himac for the right advice on which trencher configuration is best suited to your digging conditions. By utilising the crumber bar and chain for a clean finish, you can be sure to dramatically minimise avoidable mess and finish with a clean cut trench.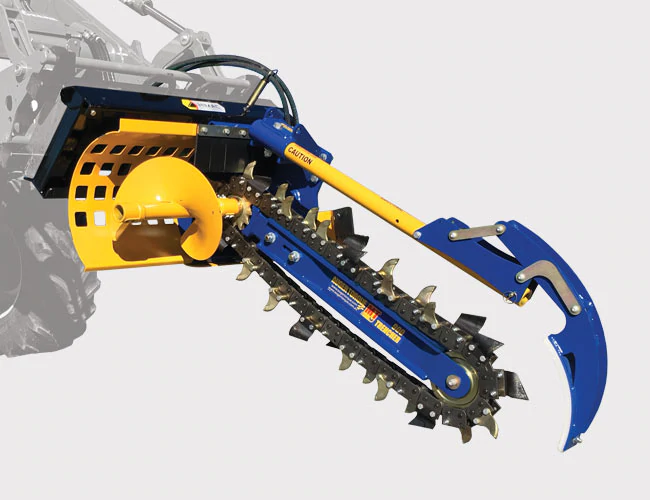 Chain Trencher Features

Powerful high torque planetary drive
Can be applied to earth, rocky ground, asphalt, concrete and frozen ground
Scraper / crumber bar included
Side shift (manual) frame
Keep dirt out of the trench with the discharge auger
Ag Loader models – Digging depth up to 1200 mm
For trenches 100 – 300 mm width

Trencher Chain Options

Combination (Tungsten and Earth) – Designed for varying ground conditions: dry, hard or medium
Tungsten – Optimal for frozen or hard ground and asphalt
Chain widths available:
100 mm, 150 mm, 200 mm, 250 mm, 300 mm

Optional mounts

Euro
John Deere 500 CX
John Deere 600 / 700 Series Q Latch
Challenge Aus
Burder
Enquire Now!