Himac Post Hole Diggers (Auger Drives) deliver absolute power and precision to easily meet your drilling requirements – backed by three top level warranties.
Featuring a non-dislodgment shaft which locks into the auger drill's housing, making it impossible for the drill to fall out or come loose.
High quality hoses and couplings make continual hooking and unhooking to your tractor easy on both the operator and on the attachment's ridiculously long life cycle.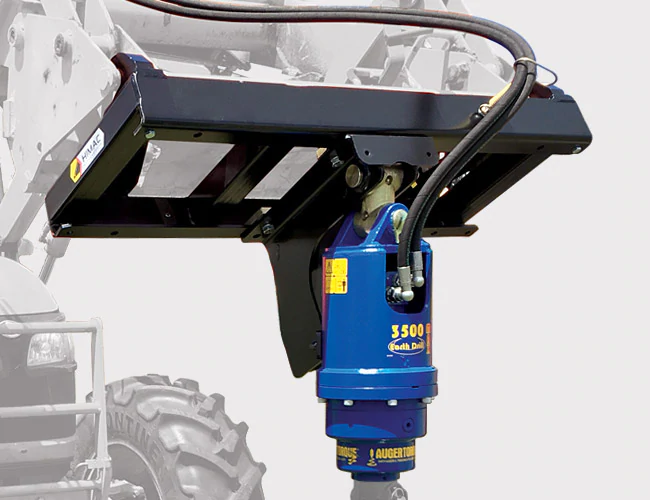 Post Hole Digger Features

Planetary drive

S4 – 65 mm Round drive shaft:
Suitable for Ag Loaders, Skid Steer Loaders and Mini Loaders

S5 – 75 mm Square drive shaft:
Suitable for Ag Loaders, Telehandlers and Excavators

2.2 m hoses and couplings included

Side-shift cradle or Fixed frame

Unique feature – Non-dislodgement shaft guarantees the shaft will never fall out

'Shock Lock' teeth system
Select an Auger to suit – Rock & Tungsten Augers

Post Hole Digger Models

X2000 – 2190 Nm Torque, Suits up to 40 HP, 25-57 LPM Flow, Suits 100-450 mm S4 Augers
2500 – 2847 Nm Torque, Suits 40-75 HP, 27-65 LPM Flow, Suits 100-600 mm S4 Augers
3500 – 3614 Nm Torque, Suits 65-140 HP, 40-80 LPM Flow, Suits 100-750 mm S4 Augers
4500 – 4499 Nm Torque, Suits 100-180 HP, 50-95 LPM Flow, Suits 100-900 mm S4 Augers
5500 MAX – 5477 Nm Torque, Suits 200+ HP, 60-120 LPM Flow, Suits 150-2000 mm S5 Augers

Optional Mounts / Frames

John Deere 500 CX
John Deere 600 / 700 Series Q Latch
Challenge Aus
Burder
Enquire Now!