Telehandler Stump Bucket Grapple
Himac's innovative Stump Grapple Bucket now available for Telehandlers.
This powerful grapple hybrid accelerates the stump removal process for a truly versatile and efficient telehandler tool. The toothed tip and serrated edges allow you to work your way under the stump easily. Latch onto the stump and pull utilising the direct power of the single-piece grapple arm, busting thick roots in the process.
While this innovative telehandler attachment is designed primarily for vegetation control, it's also handy as a trencher, demolition tool and asphalt demolition device just to name a few.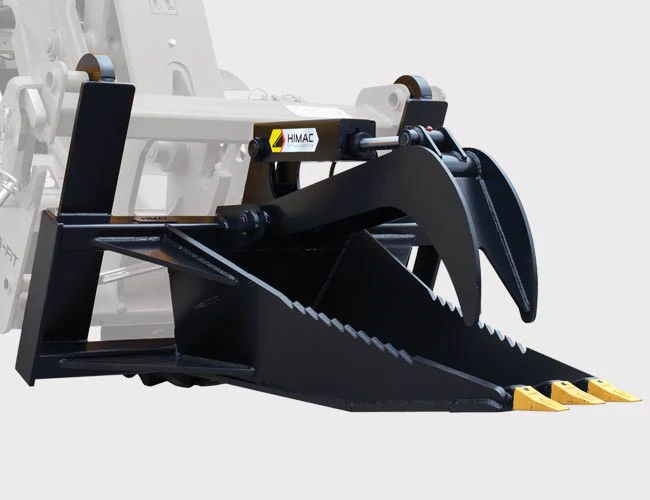 Stump Bucket Grapple Features

Extreme duty grapple arm
Replaceable excavator style teeth – 300mm wide tip
High tensile construction – curved base – 16mm
Removes tree stumps, bushes and vegetation faster than before
1200mm grapple opening – ideal for handling large and tall loads
Also dig footings and trenches (max 915mm depth)
Perform demolition – pull up asphalt / concrete

Choose Telehandler Mount

Bobcat / Clark
Cat IT
Claas Scorpion
Dieci Apollo
Dieci Multi Hitch
Faresin
Genie
JCB Q-Fit
JCB Compact
John Deere / Matbro
JLG
Manitou
Merlo ZM2 / ZM3
New Holland
Enquire Now!