The powerful and innovative Rock Picker now available for Telehandlers. Dig and collect stones / rocks up to 500 mm diameter – it's clean rock removal made easy.
Achieve enhanced productivity and true ease-of-use with the Telehandler Rock Picker, boasting high tensile solid bar construction paired with an integrated high torque motor for swift rock-picking power. Handle work loads up to 2350 kg (depending on machine capacity) to significantly cut working time and get those rocks out the ground.
Get the reliability you need with the benefit of shock absorption springs to reduce impact, protective motor housing and bisalloy fingers that strengthen the rotational reel.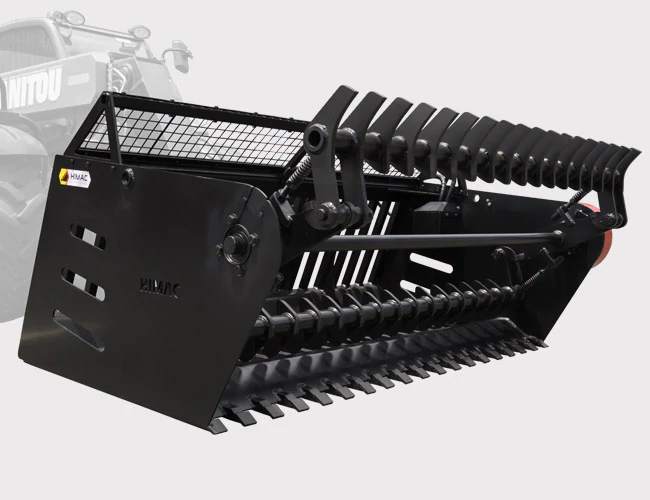 Rock Picker Features

EXTREME DUTY
Suitable for…
Telehandlers (over 3 ton lift capacity)
Wheel Loaders
For smaller Telehandlers, see the Heavy duty model
Working width:
2400 mm / 94″ (2540 mm overall)
1.65 m3 volume
DESIGNED AND MANUFACTURED IN AUSTRALIA
Optimal rock size: 100 – 500 mm diameter (can handle larger rocks)
40 x 40 mm high tensile solid bar tynes
Bidirectional rotating collector arm with bisalloy fingers
Larger tyne spacings allow maximum sifting
Handles load capacities up to 2350 kg (machine dependent)
Shock absorption springs to reduce impact from large rocks / rough terrain
Bisalloy catchment retainer
High torque hydraulic motor – can operate as low as 40 LPM flow
Protective motor housing
100 mm working depth
Includes hoses and couplings
Pressure relief valve
Maximum operating visibility with rear guard
Telehandler hitch included
Additional sizes and models to suit skid steers / track loaders and tractor loaders

Choose Telehandler Mount

Bobcat / Clark
Cat IT
Claas Scorpion
Dieci Apollo
Dieci Multi Hitch
Faresin
Genie
JCB Q-Fit
JCB Compact
John Deere / Matbro
JLG
Manitou
Merlo ZM2 / ZM3
New Holland
Enquire Now!