Telehandler Chain Trencher
For a clean-cut trench without the mess, look no further than the Telehandler Trencher from Himac Attachments. This chain trencher offers a range of different chains and teeth to work through varying ground conditions with ease. Once the trencher configuration is set, you can achieve your ideal digging depth with your telehandler.
By utilising the crumber bar and integrated discharge auger, you can ensure efficient spoil movement with no environmental repercussions.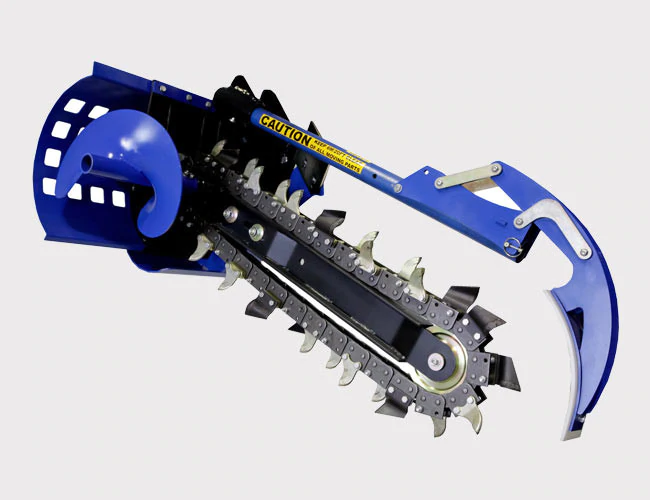 Chain Trencher Features

High torque planetary drive
Handles earth, rocky ground, asphalt, concrete and frozen ground
Integrated crumber / scraper bar
Manual side shift frame
Keep dirt out of the trench with discharge auger
Dig depths: up to 1200 mm
Trench widths: 100 – 300 mm

Trencher Chain Options

Combination (Earth / Tungsten) – Suits dry, hard or medium ground conditions
Tungsten – Suits hard or frozen ground conditions and asphalt
Chain widths available:
100 mm, 150 mm, 200 mm, 250 mm, 300 mm

Choose Telehandler Mount

Bobcat / Clark
Cat IT
Claas Scorpion
Dieci Apollo
Dieci Multi Hitch
Faresin
Genie
JCB Q-Fit
JCB Compact
John Deere / Matbro
JLG
Manitou
Merlo ZM2 / ZM3
New Holland
Enquire Now!