New from Himac, the Skid Steer Tree Puller will grab hold of small trees then pull up and out completely – roots and all! Simply grip and rip in a fast and effective clamping motion.
Right from within the skid steer cab, you can clear large areas efficiently, or sneak in for more selective removal of saplings and other vegetation.
With a highly durable steel frame construction and 29 angled teeth, the Tree Puller is ready to pull trees up to 4 inches in diameter. Within a minute, this attachment easily locks onto your skid steer with no worries.
Due to the powerful pulling performance of this skid steer attachment, you will dramatically reduce any chance of regrowth after the job's been done. For fast clean up, you can also gather and relocate your vegetation with the Tree Puller jaw.
Other applications include shearing tree limbs, pulling out vines, removing box thorns, taking out posts, handling scrap wood and demolishing unwanted wooden structures.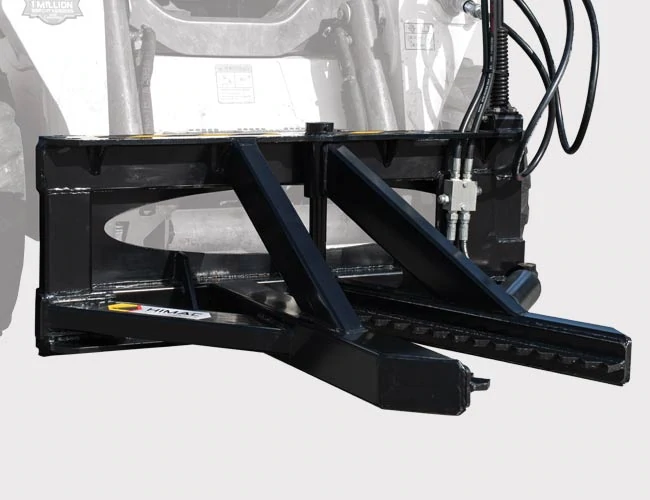 Features

High grade steel frame construction with powder coated finish
Adjustable relief valve to protect over-pressurising
Fast and powerful hydraulic clamping
Pull out trees up to 4″ diameter
Max clamp opening – 12″ diameter
Flexible hose support – protection within frame
Spring mounted strain relief hose holder – keeps hoses away from pinch points while allowing necessary full forward tilt
Non-slip strips for safe enter / exit of skid steer
Includes hoses and couplings
Universal Skid Steer mount as standard

Optional mounts

Universal mount
Toyota Hitch SDK8, 9, 10, 11
ASV / Positrack PT30, RC30
Bobcat S70, 463, Gehl 1640E
Mustang
Enquire Now!