The Himac Stump Removal Bucket is an innovative multi-use skid steer attachment. Simply insert and lift stumps and small trees out of the ground in a matter of minutes.
This attachment's strong curved base and serrated edge allows you to work away effectively while cutting tree roots. The unique design of the skid steer stump bucket means you can also dig trenches and footings as well as pull up asphalt, demolition and more!
The skid steer stump bucket is also ideal for tree services contractors where customers would rather a stump be completely removed rather than grinded after having the tree lopped.
Designed and constructed for tough Australian conditions, Himac Attachments are your one stop shop for affordable machinery attachments that go the distance. Thinking tough? You're thinking Himac!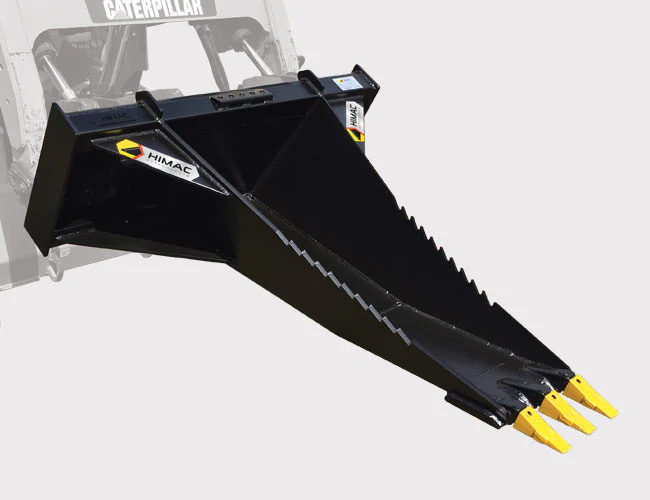 Stump Bucket Features

300 mm wide tip with replaceable cast teeth
13 mm high tensile curved base
Removes stumps, small trees and cuts roots in a matter of minutes
Dig footings and trenches up to 36"
Also for demolition, pull up asphalt / concrete
Universal Skid Steer mount as standard

Optional mounts

Universal mount
Toyota Hitch SDK8, 9, 10, 11
ASV / Positrack PT30, RC30
Bobcat S70, 463, Gehl 1640E
Mustang
Enquire Now!