The Push Stick Rake from Himac Attachments gives you amazing vegetation control with its heavy duty build and side wings. This unique skid steer attachment makes incredibly short work of clearing land, fence lines, debris and other vegetation. The spacing between its tynes provides excellent sifting to minimise waste and maximise productivity.
Designed and constructed here in Australia for harsh Australian conditions using only strong, high quality materials, you can be confident throwing your skid steer's power behind this stick rake through challenging vegetation time and time again. If you're thinking tough, you're thinking Himac!
Combining efficiency with affordability, this stick rake attachment is available in models to suit skid steer loaders, tractor loaders and telehandlers.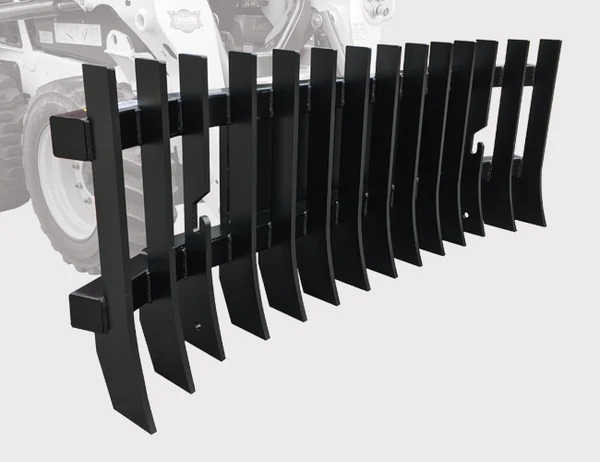 Features
Push / Stick Rake Features

Robust construction with side wings

Ideal for clearing vegetation, fence lines… etc
High grade steel tynes
155 mm spacing between tynes
900 mm height
Maximum sifting ability
Rear tyne stabilisers for support when standing
Tynes feature curved front
Universal Skid Steer mount as standard
Standard models – 100 x 16 mm tynes:
1800 mm / 70″, 2100 mm / 82″
Heavy duty models – 100 x 20 mm tynes:
1800 mm / 70″, 2100 mm / 82″, 2400 mm / 94″

Optional mounts

Universal mount
Toyota Hitch SDK8, 9, 10, 11
ASV / Positrack PT30, RC30
Bobcat S70, 463, Gehl 1640E
Mustang
Enquire Now!