f you're getting ready for turfing, planting or seeding – the Himac Skid Steer Rotary Tiller is the ground preparation tool for the job.
This skid steer attachment features an offset design meaning you leave no wheel tracks behind when using in reverse. The Rotary Tiller's adjustable hood can set the angle of dirt flow when operating with multiple positions available.
Achieve a tilling depth up to 115mm, utilising all 48 hardened blades, as you cut through the ground with ease – saves hours and hours of manual labour!
Whether you specialise in landscaping / lawns, or you're a contractor requiring a more precise level of ground preparation, the Himac Rotary Tiller is sure to be your trusty co-worker.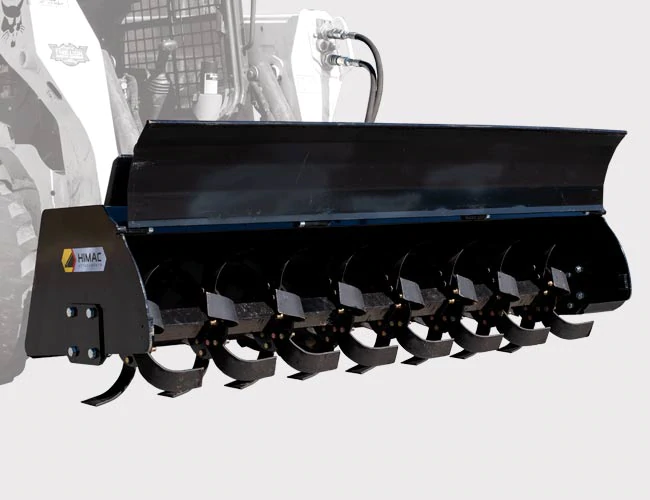 Features

Dual drive motor for bidirectional rotation

Motor protection

115mm tilling depth
1780mm operating width

48 replaceable hardened tilling blades

Multi-position adjustable hood

55 – 85LPM recommended flow

Universal Skid Steer mount as standard

Optional mounts

Universal mount
Toyota Hitch SDK8, 9, 10, 11
ASV / Positrack PT30, RC30
Bobcat S70, 463, Gehl 1640E
Mustang
Enquire Now!