Featuring a high torque hydraulic motor, the innovative Skid Steer Rock Picker allows you to dig and collect stones / rocks up to 500 mm diameter. The rotating collector provides swift rock-picking action, while also sifting dirt with its generous tyne spacings.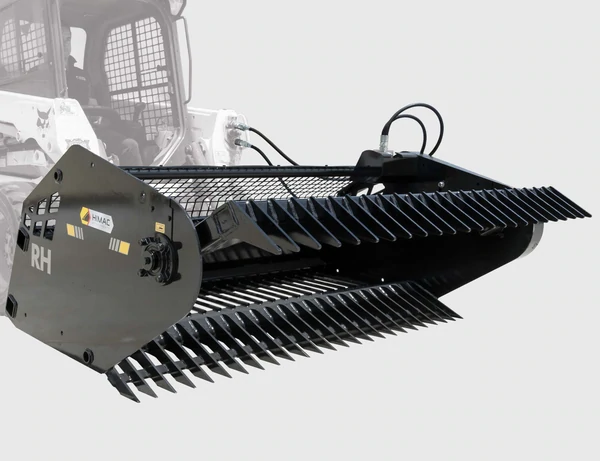 Features
Rock Picker Features

STANDARD DUTY
Suitable for…
Skid Steers up to 140 HP
Tractor Loaders up to 140 HP
Working widths available:
1600 mm / 63″ – 0.60 m3 volume
2000 mm / 78″ – 0.75 m3 volume

Collect rocks / stones up to 500 mm diameter
Powerful rotating collector arm for fast rock picking action
Generous tyne spacings for maximum sifting and clean rock removal
High torque hydraulic motor and pressure relief valve
Includes hoses and couplings
Maximum operating visibility with rear guard
100 mm working depth
Up to 1000 kg load capacity
Universal mount to suit skid steers / track loaders

Optional Mounts

Universal mount
Toyota Hitch SDK8, 9, 10, 11
ASV / Positrack PT30, RC30
Bobcat S70, 463, Gehl 1640E
Mustang
Enquire Now!