Skid Steer Rock Grapple Bucket
Himac Rock Grapple Buckets combine the sifting prowess of Round Bar Rock Buckets with strong twin cylinder, dual independent grapple arms. This powerful skid steer attachment is ideal for hard-to-handle loads such as demolition clean up, logs, rocks, shrubs, bushes and waste management.
Designed for skid steer loaders, the Himac Grapple Bucket is incredibly versatile being suited to construction site clean up, clearing fence lines, sifting through debris and much more. Think Himac for durable earthmoving attachments.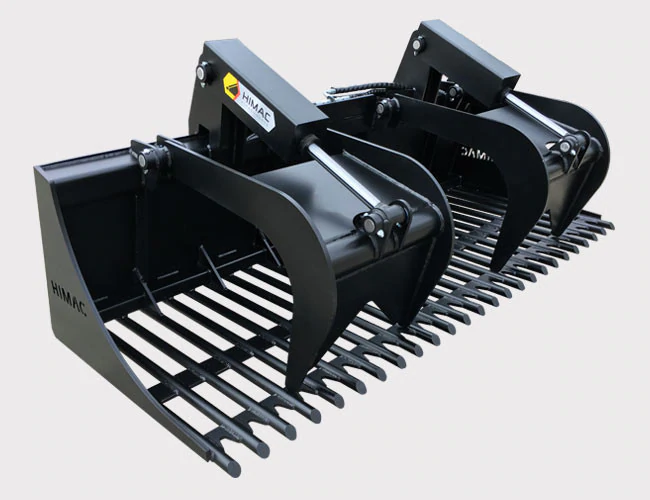 Grapple Bucket Features

Twin cylinder grapples
Grapple arms are independent for handling uneven loads
Cylinder covers fitted
High tensile round bars – ideal for clean up of demolition / scrap
50 mm spacing, 12 mm scalloped sides
Double row of reinforcing spacers – Extreme duty
Includes hoses, fittings and couplings
Single remote operation
Widths available:
1585 mm / 62″, 1665 mm / 66″, 1825 mm / 72″, 1985 mm / 78″, 2066 mm / 81″, 2147 mm / 84″

Improving Earthmoving

At Himac, we have all the bases covered to give you maximum work productivity.

First, our attachments are precision-engineered and designed to produce excellent results after every use. Knowing you can depend on attachments from Himac means achieving true peace of mind.

Second, we offer fast turnaround on our entire skid steer attachment range, allowing you to put your new Grapple Bucket to work as soon as possible.

Finally, our commitment to better service continues to set us apart from the others. Our after-sales support and vast product knowledge means you receive a highly convenient and stress-free customer experience.

Optional mounts

Universal mount
Toyota Hitch SDK8, 9, 10, 11
ASV / Positrack PT30, RC30
Bobcat S70, 463, Gehl 1640E
Mustang
Enquire Now!