The Rock Bucket (also called Rake Bucket) from Himac is a serious tradie's workhorse designed for skid steers and track loaders. Ideal for clean ups, scrapping and demolition work, the high tensile round bar tynes allow for materials to be loaded and unloaded easily without being caught.
Designed and made here in Australia for tough Australian conditions, the rock bucket surpasses what you would expect from an affordable skid steer attachment with high grade materials and a stringent assembly process.
With reinforcing spacers along the base, this attachment is over engineered and can be put through hell and back on a daily basis without breaking a sweat. This robust Rake Bucket provides incredible sifting to remove unwanted material in a single scoop.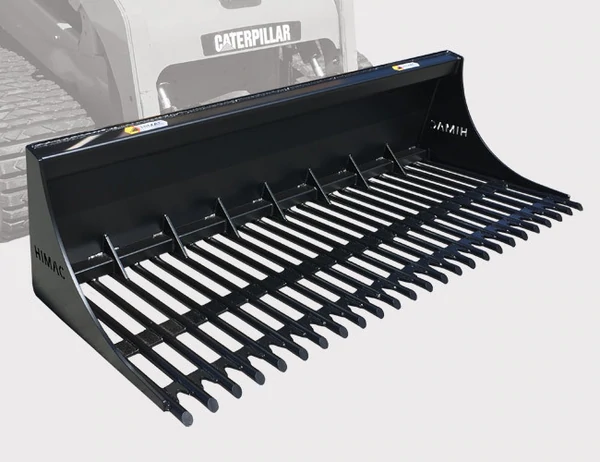 Features
Rock Bucket Features

Robust design – heavy or extreme duty options

30 mm 4140 high-tensile solid round bars

Single rows of reinforcing spacers in base (heavy duty) or double row (extreme duty)

Optional Spill Guard (150mm high – fitted)

50 mm spacings, 12 mm scalloped sides

Safety steps fitted
Universal Skid Steer mount as standard
Heavy Duty Widths:
1500 mm / 59″, 1585 mm / 62″, 1665 mm / 66″
Extreme Duty Widths:
1745 mm / 69″, 1825 mm / 72″, 1905 mm / 75″, 1985 mm / 78″, 2065 mm / 81″, 2145 mm / 84″, 2225 mm / 87″

Optional mounts

Universal mount
Toyota Hitch SDK8, 9, 10, 11
ASV / Positrack PT30, RC30
Bobcat S70, 463, Gehl 1640E
Mustang
Enquire Now!