How do you improve the strongest Rake Bucket in Australia? Add a Grapple! Featuring 40 x 40mm high tensile solid bar tynes and robust dual arms, the Skid Steer Power Grapple Bucket from Himac Attachments is a force to be reckoned with.
Rake, sift, lift, grab, pull and shift – this versatile skid steer attachment is built with performance in mind. Manufactured from high-grade steel right here in Australia, and designed to tackle harsh Aussie conditions head on!
Engineered to suit high horsepower skid steers, you'll be digging out rocks / stones, clearing vegetation and more in no time. You also have the added advantage of independently moving grapple arms to handle uneven loads.
Available in 2100mm and 2400mm widths to match your tracked machine type.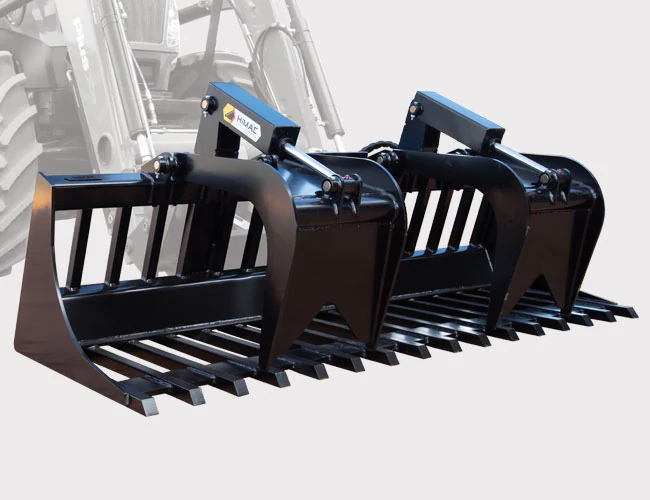 Skid Steer Power Grapple Features

Rock solid design for extreme duty applications

Suits high HP tracked machines
Dual independent hydraulic grapple arms
Can handle large and uneven loads
40 x 40 mm high tensile solid bar tynes – 115 mm spacings
930 mm high max opening

High visibility and sifting ability

Clearing fence lines / scrub, dig out stones, rocks and much more

Widths available:
2100 mm, 2400 mm
Includes hoses, fittings and couplings

Optional mounts

Universal mount
Toyota Hitch SDK8, 9, 10, 11
ASV / Positrack PT30, RC30
Bobcat S70, 463, Gehl 1640E
Mustang
Enquire Now!