Skid Steer Mulching Slasher
Slash through larger volumes of vegetation with the robust Mulching Slasher. If you have an urgent need to remove Lantana and other plant pests, this is the Himac Slasher for you.
Featuring a high-grade reinforced Slasher deck and integrated push bar, the Mulching Slasher bears an extreme duty 4-blade carrier. The combination of quad blade configuration and serrated edges provides the mulching-style action required the obliterate plant pests effectively.
Slice through thick vegetation and bushes with an Australian-made Slasher for tough Australian conditions. In fact over 80% of the Attachments Himac sell are proudly made right here by our skilled manufacturing team.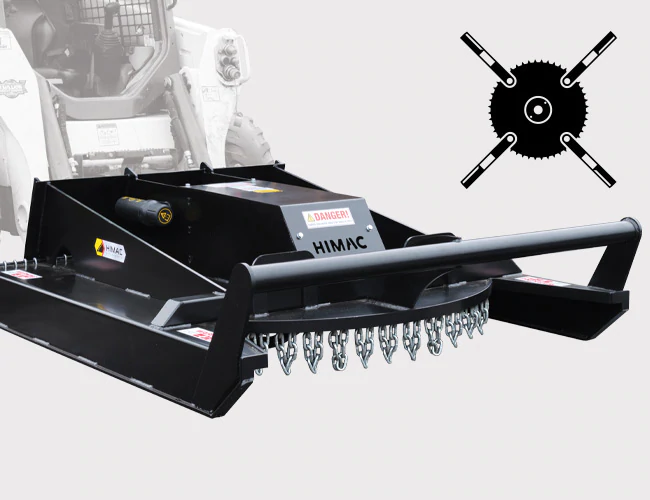 Features

Extreme duty 4 BLADE carrier with serrated edges
Optimal for vegetation up to 4″ diameter
6 mm thick reinforced slasher deck
Run down clutch protection
Rear safety chains fitted
Fork pockets for safe loading / unloading
Complies with Australian safety standards
Powerful hydraulics
Case drain fitted as standard
Includes hoses and couplings

Models / Cutting Widths

5 ft Mulching Slasher
60″ (1606 mm overall) – 1500 mm cutting width
5.5 ft Mulching Slasher
63″ (1706 mm overall) – 1600 mm cutting width
6 ft Mulching Slasher
72″ (1916 mm overall) – 1830 mm cutting width
6 ft Mulching Slasher – High Flow
72″ (1916 mm overall) – 1830 mm cutting width

Optional mounts

Universal mount
Toyota Hitch SDK8, 9, 10, 11
ASV / Positrack PT30, RC30
Bobcat S70, 463, Gehl 1640E
Mustang
Enquire Now!