All the pushing power of our famous push rake but with lifting functionality for post-job clean-up and log handling – we call it the Skid Steer Lift Rake. An innovative design that's as easy as push, lift and load!
We build this unique skid steer attachment right here in Australia for tough Australian conditions. The Lift Rake delivers efficient clearing of fence lines, scrub, small trees and more. Plus you have the ability to transport larger objects along the way.
Constructed with custom-designed 'L' shape tynes, the Lift Rake features a sieve-style action to leave behind unwanted material and dirt when lifting.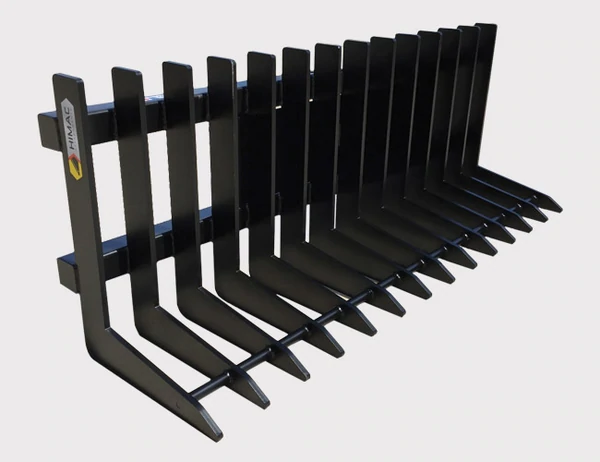 Lift Rake Features

Heavy duty construction – unique 'L-shape' tyne design

Push away vegetation, clear fence lines, remove debris and more

Lift logs, clean-up after the job, and transport small / medium vegetation
High grade steel tynes – 125 x 20 mm

Tyne spacings – 163 mm

Height – 900 mm
Widths available:
2050 mm / 81″, 2400 mm / 94″
Universal skid steer mount as standard

Optional mounts

Universal mount
Toyota Hitch SDK8, 9, 10, 11
ASV / Positrack PT30, RC30
Bobcat S70, 463, Gehl 1640E
Mustang
Enquire Now!