The new Dual Use Grader/Dozer Blade features robust floating frontal axis wheels and complete electrohydraulic blade control. This feature-packed skid steer attachment is the ultimate grading and levelling machine with greater adaptability to handle uneven terrain and produce a clean job.
Right from within the skid steer cab, you can tilt, angle and adjust height with power and precision – all operational with a direct connected joystick.
The Skid Steer Grader Blade attachment comes with bolt-on extensions if you require added width. For an even cleaner finish, the optional box sides are available. Alternatively, if you require a more streamlined blade, consider the Dozer Blade attachment.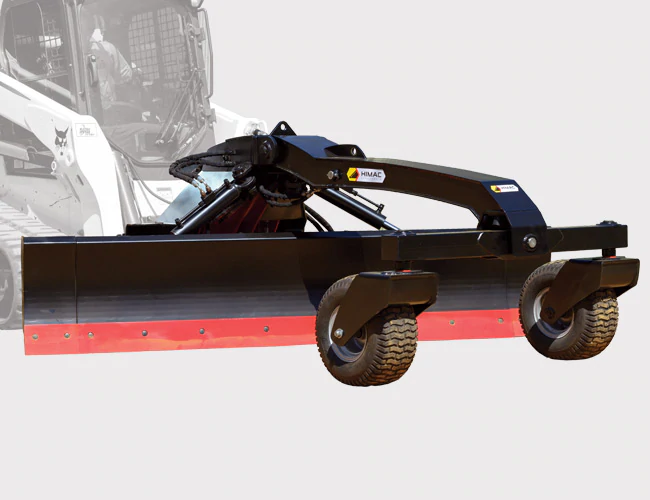 Dozer Blade Features

Height adjust ± 150mm
Hydraulic angling ± 26°
Hydraulic tilt ± 15°
400 Brinell hardness standard bolt-on edge
Includes joystick and electric control kit
Working width: 2200 to 2700mm
Supplied bolt-on extensions for added width
Greasable pivot points
Includes hoses and couplings
Universal Skid Steer mount as standard
Precision-engineered European construction

Optional Extras

Box Sides for reduced spill

Optional mounts

Universal mount
Toyota Hitch SDK8, 9, 10, 11
ASV / Positrack PT30, RC30
Bobcat S70, 463, Gehl 1640E
Mustang
Enquire Now!