Skid Steer Extreme Duty Slasher
If you want a Skid Steer Slasher that packs extra punch, consider the Himac Extreme Duty Slasher. Like the heavy duty alternative, this model will deliver a high level of skid steer slashing efficiency but with the added functionality of tackling scrub and thicker vegetation without breaking a sweat!
By utilising an incredibly robust 4 blade carrier, the extreme duty slasher puts in the hard yards when clearing vegetation, creating fire breaks, cutting down small/medium trees and more. Unlock the potential of your skid steer with an Australian-made attachment built for tough Australian conditions.
By complying with Aussie safety standards, you have the added peace-of-mind that your safety is at the forefront of this slasher attachment design. Featuring front and rear safety chains, reinforced slasher deck and run down clutch protection to name a few.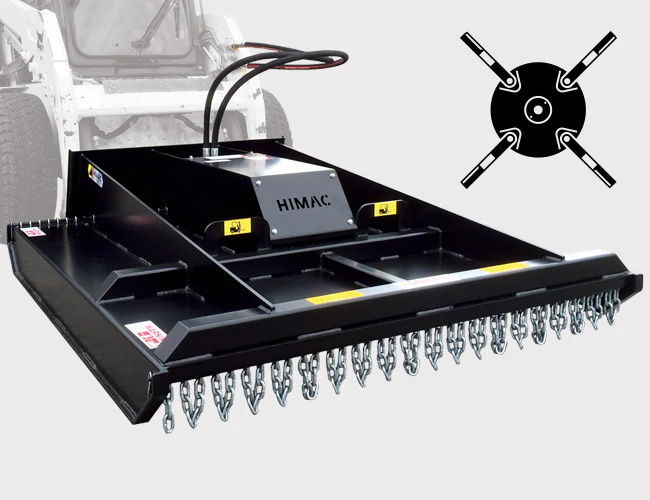 Features

Heavy duty 4 BLADE carrier
4″ diameter cutting capacity
Reinforced slasher deck – 6 mm thick
Run down clutch protection
Fitted safety chain row
Complies with Australian safety standards
High speed hydraulics
Case drain fitted as standard
Fork pockets for easy transportation
Includes hoses and couplings

Models / Cutting Widths

5.5 ft Slasher
63″ (1710 mm overall) – 1600 mm cutting width
6 ft Slasher
72″ (1940 mm overall) – 1830 mm cutting width
6 ft Slasher High Flow
72″ (1940 mm overall) – 1830 mm cutting width

Optional mounts

Universal mount
Toyota Hitch SDK8, 9, 10, 11
ASV / Positrack PT30, RC30
Bobcat S70, 463, Gehl 1640E
Mustang
Enquire Now!