For the toughest Skid Steer Grapple around, look no further than the new and highly versatile Himac Claw Grapple.
With Push Rake-style capability and fitted Cat J-Series teeth, this grapple is built to handle almost anything in its path. Whether you're moving logs / branches, tackling large volumes of unwanted vegetation or doing scrap clean-up – you can push it, grab it, lift it and shift it with this powerful skid steer grapple.
The precision-engineered singular grapple arm gives you advanced strength and reliability, inspired by our Telehandler Power Grapple, to your skid steer / track loader. Plus leave your work area spick and span with the Claw Grapple's raking and back dragging ability.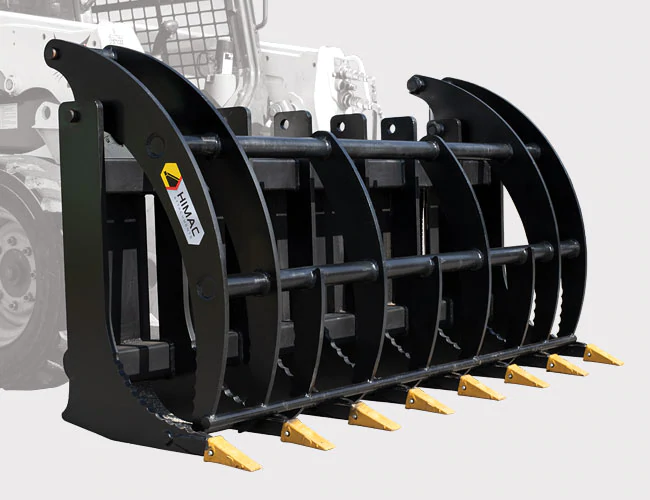 Features

Grapple features high grade 16 mm thick arms with 65 NB horizontal bars

Fitted Cat J-Series teeth for cutting through ground and roots
Perform raking and back dragging
Powerful Bisalloy 450 steel construction with 36mm thick tyne ends
Impressive 1270mm max opening allows large volume
Handle all types of vegetation and scrap
Serrated edges provide serious grip
Unique curved shape to hold wide range of loads sizes

Greasable pivot points

Hoses and couplings included
Universal Skid Steer mount as standard
Widths available:
1800 mm / 70″, 2100 mm / 82″, 2400 mm / 94″

Optional mounts

Universal mount
Toyota Hitch SDK8, 9, 10, 11
ASV / Positrack PT30, RC30
Bobcat S70, 463, Gehl 1640E
Mustang
Enquire Now!