Skid Steer Chain Trencher
One of Himac's most reliable and productive units, the Skid Steer Chain Trencher gets the job done clean and fast. This skid steer chain trencher offers a range of different chains and teeth that allow it to cut through various types of hard ground effectively. With the right chain trencher configuration, little effort is required to achieve a consistent digging depth.
Our consultants are happy to advise which trencher attachments are best suited to the digging conditions you will be working with; therefore providing optimum results. Chain trenchers ensure efficient spoil movement, utilising the crumber bar and chain for a clean finish with no environmental repercussions.
Himac's Skid Steer Chain Trencher is a loyal work companion that is backed by an industry-leading 6-year warranty on gearbox components and a 3-year warranty on the hydraulic motor. For earthmoving attachments that won't let you down, think Himac.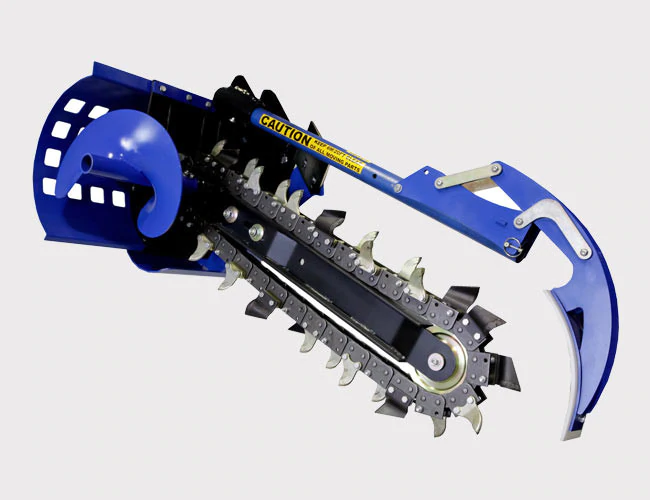 Chain Trencher Features

High torque planetary drive
Used for earth, rocky ground, asphalt, concrete and frozen ground
Includes scraper / crumber bar
Universal skid steer mount (others available)
Manual side shift frame
Discharge auger to help keep dirt out of the trench
Skid Steer models – Digging depth up to 1200 mm
For trenches 100 – 300 mm width

Trencher Chain Options

Combination (Tungsten and Earth parts) – Ideal for dry, hard or medium ground conditions
Tungsten – Ideal for hard or frozen ground conditions and asphalt
Chain widths available:
100 mm, 150 mm, 200 mm, 250 mm, 300 mm

Optional mounts

Universal mount
Toyota Hitch SDK8, 9, 10, 11
ASV / Positrack PT30, RC30
Bobcat S70, 463, Gehl 1640E
Mustang
Enquire Now!