When it's time to clean up, rely on Himac's Bucket Broom to pick up the trash while sweeping thoroughly and efficiently. From sweeping streets, debris and more, the bucket broom turns what would normally be tedious and time-consuming tasks into light and easy work.
Save countless hours by locking on the highest quality Bucket Broom on the market for truly excellent return on investment.
With its solid steel reinforced construction, the Himac bucket broom gives exceptional results time and time again. If you're thinking though, think Himac for attachments that can be put through hell and back on a daily basis, without breaking a sweat!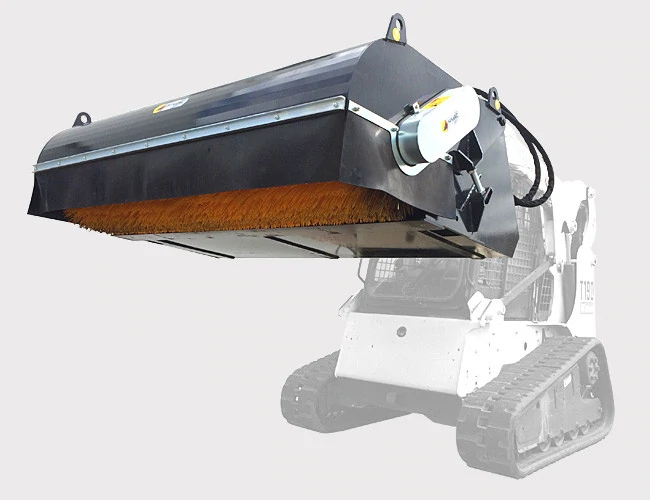 Bucket Broom Features

Collects material while sweeping

Single piece PPN brush for longer life

Forward and reverse operation

Replaceable bolt-on cutting edge ( reversible )

Includes hydraulic hoses and couplings

Fast and easy brush height adjustment

Motor protected within case

Bottom reinforcements – made from HB450 steel
Universal Skid Steer mount as standard
Premium Italian quality
Widths available:
1550 mm / 61″, 1800 mm / 70″, 2100 mm / 82″

Optional Extras

Sprinkler kit including 100 L water tank (includes electric pump, hoses and nebulisers)

Gutter brush

Optional mounts

Universal mount
Toyota Hitch SDK8, 9, 10, 11
ASV / Positrack PT30, RC30
Bobcat S70, 463, Gehl 1640E
Mustang
Enquire Now!