Self-Loading Skid Steer Mixer Bucket
Just because concrete needs to be hard, doesn't mean that working with it should be. The Self-Loading Skid Steer Concrete Mixer from Himac Attachments takes the strain out of producing solid work.
Concrete can be difficult to work with at the best of times, and not having the right tools for the job could end in a poor quality concrete mix or even messy clean ups that can set you back for hours. Loading, mixing and delivering concrete across a work site is made easy with this skid steer concrete attachment.
Mixing concrete has never been so simple with the ability to add cement powder quickly using the in-built bag breaker. With a hydraulic opening at the bottom of the attachment as well as a detachable unloading pipe, you have maximum control over each pour.
This skid steer concrete mixer attachment come in various sizes to suit your line of work with our largest model able to mix and transport up to 600 litres of concrete in one load.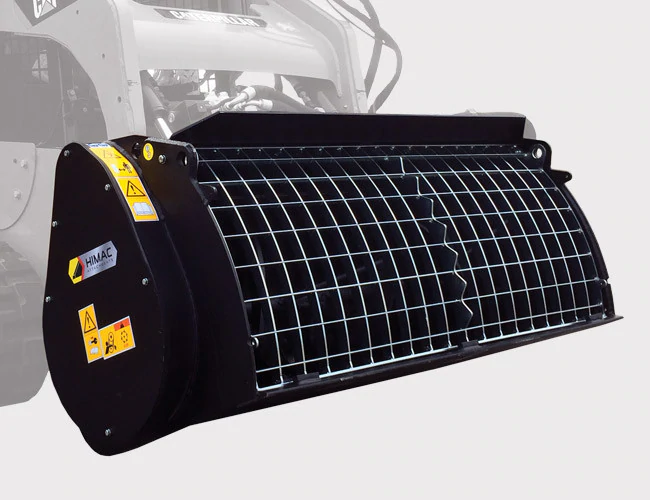 Mixer Bucket Features

Self-loading, hydraulic opening at bottom
Unloading pipe included
Safety grill with bag breaker
Electric control kit supplied
Includes hoses and couplings
Extra strong spiral design paddles
Models available:
200 L, 250 L, 350 L, 450 L, 600 L
Premium Italian quality

No job too big or small

From delivering small batches of concrete mixes to residential projects to filling the needs of a large construction site, the skid steer concrete mixer attachment from Himac really lightens the load of concrete work.

Featuring an extra strong spiral paddle design, this powerful attachment ensures a perfect mix every time. Hard concrete doesn't always mean hard work when you've got a Himac on your side!

Optional mounts

Universal mount
Toyota Hitch SDK8, 9, 10, 11
ASV / Positrack PT30, RC30
Bobcat S70, 463, Gehl 1640E
Mustang
Enquire Now!