Great versatility in all conditions.
The SE7000 series comprises Kubota's largest and toughest grass and straw choppers for heavy-duty work on set-aside land and cultivated fields. The SE7000 series chopper is indispensable on grass fields or for chopping straw, stubble and other crop residues after harvesting, but also very useful for fruit farms clearing scrub and tidying pasture. The SE7000 series is available in 4 working widths covering all different requests coming from farmers.
Easy and minimal maintenance make the SE7000 series a profitable chopper.
The SE7000 series can be equipped with different blade types in order to fulfil all customers' demands. The skids are included in the standard configuration, wheels or roller are optionally available.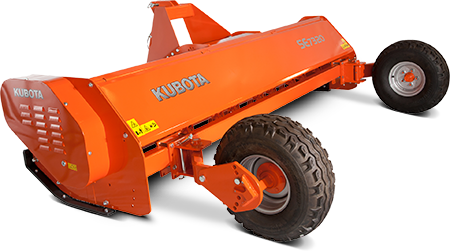 Features
The Advantages

For tractors up to 160hp.
Heavy construction for a reliable utilization.
Versatile rotor for perfect shredding in all conditions.
Easy adjustment in the field.
Minimal maintenance, reduction of maintenance costs.
Precise assembly and accurate rotor balancing.
Flail blade as standard.
Hammer blade available as an option through Spare Parts.

Transmission

Central gearbox up to 160 hp with integrated free wheel as standard.
PTO tractor input can be 540 or 1000rpm; by inverting the belt pulleys the SE7000 series always keeps the same rotor rpm.
5 V-belts combined with automatic belts tensioner ensure smooth transmission.
No maintenance required.

Rotor

The rotor is manufactured precisely and is dynamically balanced after the blades have been fitted; this leads to a smooth running without vibrations.
A strong tube 245x10mm fi rms the basis.
Standard for universal and hammerblades.
The wide diameter of the rotor (650mm) guarantees an excellence cut with low power  requirement.
Enquire Now!