The Kubota SE1000 series grass chopper is a small, medium-duty machine for use on slightly rough ground and other green areas: in amenity areas, for tidying up pasture and in similar situations. The Kubots SE1000 Series is suitable for tractors up to 50 hp. It is available in 0,90m; 1,20m; 1,50m and 1,80m working width.
The hallmark of Kubota grass and straw choppers is their ability to cope with whatever is required. Whatever the size, every model is built for a variety of different tasks.
However, all models are solidly constructed throughout with a robust gearbox and very strong power transmission to the "V" belts driving the shafts. In addition, they have a strengthened chassis with double plating in the areas subject to highest stress. The combination with Kubota's precisely manufactured rotor shafts and hard wearing blades makes them extremely reliable.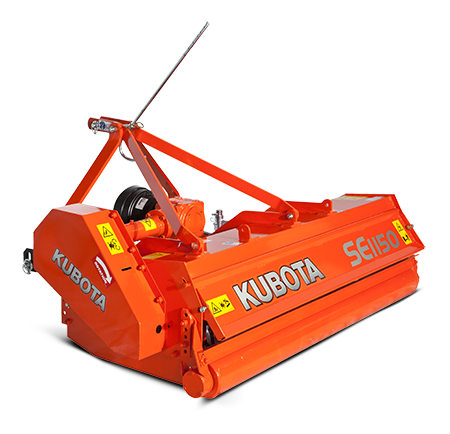 Features
The Advantages

Small, light machine.
Easy to operate.
Minimal maintenance.
Universal blades as standard.
Blades for stony condition on request.
Cup blades (available through Spare Parts).

Rotor

Dynamically balanced rotor.
Free floating cutting tools (flail concept).
40 mm bearing hub.
Spherical sealed ball bearings.
101.6 x 8 mm rotor tube.
Rotor speed 1993 rpm.

Rear Roller

The SE1000 series is equipped as standard with a rear roller which allows the reliable control of the working depth. Alternatively a pair of skids can be supplied on demand.
Enquire Now!