In front of the field
SARITOR 62 Active takes a proven sprayer to the next level with a larger stainless steel  tank, more power, improved comfort and advanced booms.
This uniquely Australian SARITOR is driven by a 300HP Cummins QSB 6.7 litre diesel engine, driving four Danfoss Hydrostatic wheel motors. The Cat.4 cab provides a cool, clean operator environment with fingertip controls and your choice of ISOBUS controller.
And in the field, a range of steel or HARDI PARAGON aluminium booms from 36 m to 48.5 m eat up the acres with unrivalled ride and remarkably precise height management.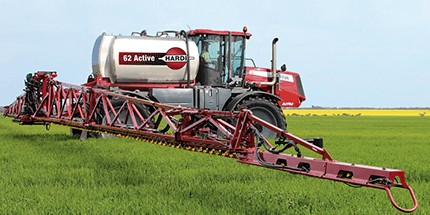 Features
Unrivalled boom ride

One of the most outstanding features of SARITOR 62 Active is its remarkable boom ride. Capitalising on HARDI's 30+ years of experience, SARITOR uses a wide Paralift boom centre with HARDI's AutoTerrain boom height and stability control, coupled to patented yaw dampening.

This intelligent, integrated system proactively positions the boom to proactively compensate for terrain changes.

The result is precise tip-to-tip height control, for more accurate spraying and near-zero chance of ground strikes, even with high spraying speeds and our widest aluminium booms.

ActiveAir nozzle control

The ActivAir nozzle on/off system uses SARITOR's onboard air supply to instantly open and close nozzles on demand, with no dripping.

Solenoids along the boom ensure precise switching for spraying and AutoSection control, with short air connections from each solenoid to its nozzle(s) for an instantaneous response.

Fluid recirculation maintains pressure in the boom, so nozzles spray at the correct rate from the moment they're activated, and provides simple boom flushing and rinsing without having to emtpy the rinse solution into the field

All for the operator

The new SARITOR is designed around the operator, with numerous features to make spraying safer, more precise, and less fatiguing.

A large, quiet, climate controlled, and pressurised Category 4 cab offers superb visibility to the front as well as back over the boom, while ISOBUS connectivity allows a wide choice of controllers.

Filling and cleaning is all managed from the single WorkZone, which includes FastFill connections and TurboFiller, as well as Ground Control Console for managing valves, pumps, rinsing and more.
Gallery
Enquire Now!