Our factory integrated cab RTV-X1100 model is equipped with a 24.8 HP Kubota D1105 3-cylinder diesel engine, exclusive Variable Hydro Transmission (VHT-X) and standard 4-Wheel Drive.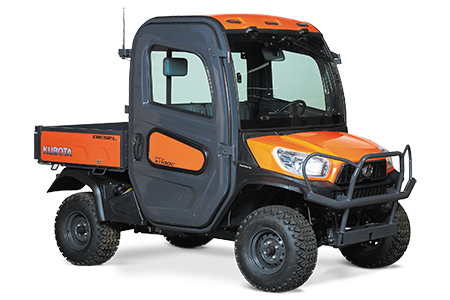 Features
Performance

24.8HP Diesel Engine
The Kubota RTV's boast powerful liquid-cooled diesel engines for long and strenuous tasks. The 3 cylinder engines are quiet, powerful and bulletproof.
VHT-X  (Variable Hydraulic Transmission)
Kubota has more experience in variable hydraulic transmissions than any other utility vehicle manufacturer. Kubota's advanced VHT-X offers a wide torque band and large oil coolers that boost performance and durability.
Strong High-rigidity Frame
The high-rigidity steel frame isolates the occupants from noise and vibrations. With structural strength that few in the industry can match, this durable frame can take years of punishment from heavy loads and rough terrain.
Two-speed In-line Shift
Maintain better control and shift less often due to the new transmission gearing with just two forward speeds (high and low), neutral and reverse.
20% Larger, Clog-resistant Radiator
Under the hood you'll find the radiator and air-intake located high and up front, where the air is cleaner and cooler. This improves both radiator performance and simplifies maintenance. Kubota's wide fin pitch design minimizes clogging, further improving radiator performance.

Front & Rear Independent Suspension
Regardless of the terrain or load, independent suspension on all four wheels ensures a truly exceptional ride. Kubota's Extra Duty IRS (Independent Rear Suspension) technology also sets a new standard for durability.
Height-adjustable Front & Rear Suspension
Whether you've got a heavy load or no load at all, adjustment of the front and rear suspension height will ensure the proper vehicle height for a smooth ride and optimum drive-ability.
High Ground Clearance
The new X-series raises the bar on ground clearance to a full 263 mm with 205 mm of suspension travel, letting you glide over bumps rather than through them.
Limited-Slip Front Differential
True 4-wheel drive with a limited-slip front differential and a locking rear differential help reduce wheel spin to a minimum, giving you greater control and a smoother ride on rough or muddy terrain.
Dynamic Braking
You'll feel more secure, especially when traveling down long inclines, knowing that dynamic braking is providing additional braking power and greater drive control.
CV Joint Protectors and Skid Plates
Obstacles on the trail? CV joint protectors and heavy-duty skid plates will protect the most critical parts of the engine and transmission.

Comfort

Integrated Cab
The factory fitted cabin features powerful air conditioning and heating, wind down windows, an ergonomic layout and boasts an exceptionally quiet ride.
60:40 Split-bench Seats
The split-bench style seat is ergonomically designed to provide hours of riding comfort. The driver's side is adjustable fore and aft.
Power Steering
Responsive hydrostatic power steering gives you the control you need to tame any terrain. The steering wheel is tilt-adjustable, allowing you to set the optimum angle for your driving style.
Digital Meter Cluster
The digital meter cluster features bright, large and easy-to-read indicators, keeping you informed of all critical driving conditions, including speed, hours and kilometres traveled. An Overheat Alarm (light and audio) helps prevent engine damage.
Easily accessible Parking Brake
The parking brake is conveniently located on the dashboard for easier access as well as more leg-room.
Glove Box
A large glove box on the passenger side provides fast access to critical tools and personal effects.
Under-seat Storage Compartments
Large compartments under the split-bench seats provide plenty of convenient storage space for tools, tie-downs and personal items.

Cargo Tray

Carry up to 0.43 cubic metres of cargo
The heavy-duty steel cargo box can haul anything you need here, there and back again. Carry up to a half-tonne (500 kg) of tools, firewood, gear or supplies. Whatever you want to carry, cargo tie-down hooks come standard to keep your gear secure.
Dumping Cargo Box
With the flick of a single lever, the hydraulic-lift cargo box rises and your cargo slides out. Cargo that could take significant physical strength and time to unload can now be dumped with little effort in just a few seconds.
Towing Capacity
Standard two-inch hitch receivers at the front and back let you tow up to 590 kg of gear.
Enquire Now!