In presenting the Premos 5000 (Kalverkamp system), KRONE is once again making a powerful statement of its innovative performance: The Premos is at the same time a mobile pellet harvester and a stationary pellet mill that harnesses the huge potential of straw, which is abundantly available in the fields around the world, and presses it into top-quality, high-fibre pellets. These make ideal bedding, animal feed and fuel.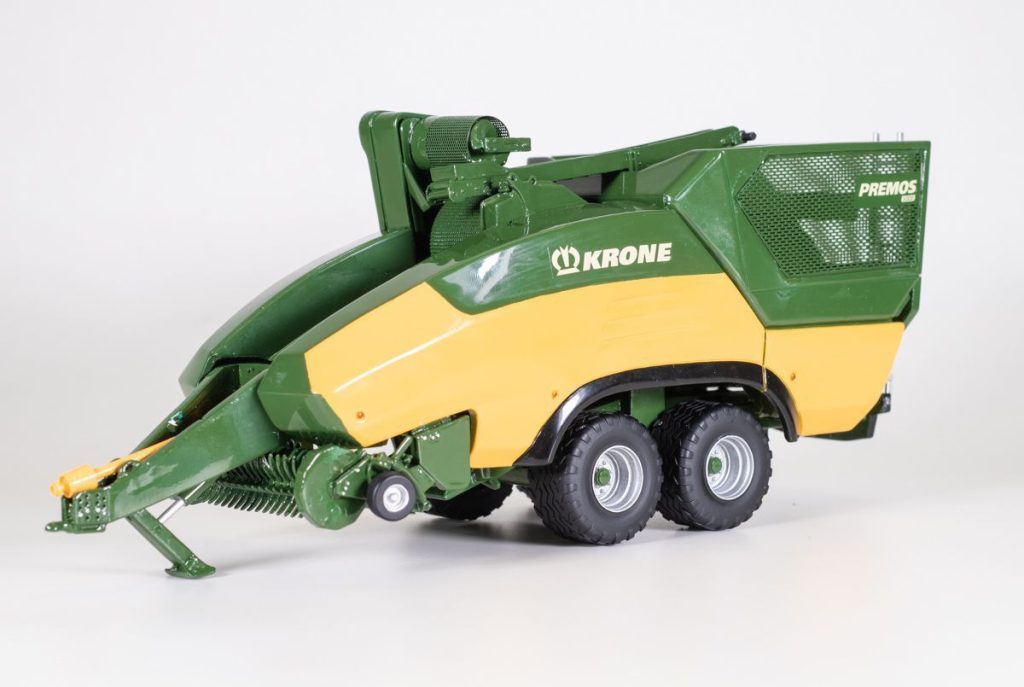 Features
Use of pellets

Comfortable bedding for cattle: 1 kg of high-fibre pellets absorb up to 4 litres of water. This high liquid absorbing capacity makes straw pellets the ideal bedding for housed cows. The cleaner environment leads to cleaner cows and better udder and animal health. In addition, less bedding is required when pellets are used instead of straw chops.
Feeding pellets to animals: Pellets from hay, lucerne and straw make excellent base rations. Research has found that high-fibre pellets show distinctly fewer traces of pathogens and mould than straw. This is proof of their high quality for use as animal feed.
Animal welfare: Handed out in small quantities, the nearly dust-free and sterile high-fibre pellets make excellent toys for pigs. Scattering pellets in the pen enriches the animals' environment and increases animal welfare, as it encourages pigs to explore and interact with their surroundings.
A sustainable fuel: 2.5 kg straw pellets substitute for 1 l fuel oil. On a global scale, about 800 million tonnes of straw are available for use as fuel. The annual amount of straw harvested in Germany is 30 million tonnes, of which 8-13 million tonnes can be used as a renewable energy resource. This makes straw a huge energy potential that has not really been harnessed in the past but can make a significant contribution to climate protection and help reduce CO₂ levels.

High-fibre pellets and their use in agriculture

Straw pellets of an extremely high bulk density: 600-700 kg/m³
""Excellent absorption qualities for ideal bedding
""Adds structure to the ration
""Excellent toys for pigs
""Enormous potential as a renewable energy source

KRONE Premos 5000 produces pellets that are clearly different from DIN pellets. With a 16 mm diameter, high-fibre pellets that are made from unchopped material are much bigger than pellets that meet DIN standards. Rich in fibre, pellets add structure to the ration and offer good absorption qualities as bedding.

Operation

Easy use and easy operation
"DS 500 – Standard 5.7″ operator terminal with colour screen
"CCI 800 – Comfort-level 8″ operator terminal with touch screen
"CCI 1200 – Comfort-level 12″ operator terminal with touch Screen

Premos is conveniently operated from a number of easy-use operator terminals. From here, operators check machine functions and enter settings.
Enquire Now!