Mounted bale wrapper EasyWrap 150
The fastest single-arm wrapper in the market for maximum productivity and silage quality
Homologated for road travel thanks to the standard-fit tail light
Position controlled wrapping arm leads to perfect overlaps behind any tractor (no time control!)
Massive rollers ensure an effective bale roll – even of heavy bales of up to 1,600 kg
Big bobbins provide optimum bale control and ensure smooth bale roll especially in sloping fields
Work to road changeovers are made with a touch of a button
Four holders store spare film rolls for long working days. External control panel.
Automated functions for convenient bale control – from collecting to unloading
The KRONE EasyWrap 150 is the world's fastest single-arm wrapper that operates at 36rpm. More than that, the extremely versatile machine is equally at home in bale handling. This versatility makes the EasyWrap a true specialist machine for farmers who run their own fleets.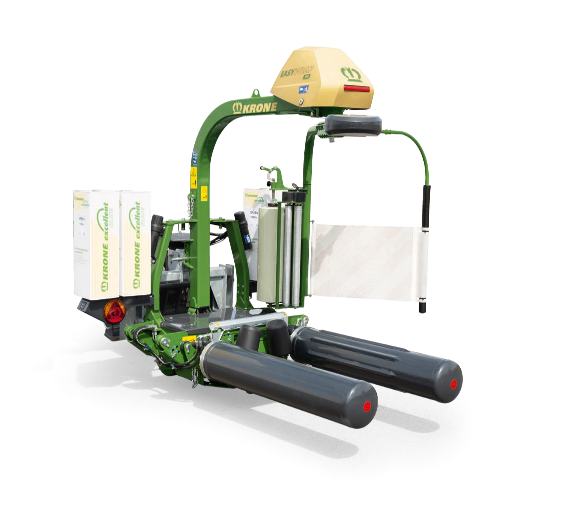 Features
Tractor attachment

Attached in three-point rear linkage, EasyWrap 150 runs very close behind the tractor, providing optimum weight distribution and great stability also behind smaller tractors. EasyWrap 150 is also suitable for front linkage attachment on higher-power tractors.

Collecting and unloading the bale

Massive rollers – smooth and ribbed – roll the bale effectively
Hydro powered rollers ensure effective bale roll
Choice of automatic, semi-automatic or manual machine control

A simple mechanism allows operators to change the machine from small to big bales. The entire wrapping cycle – from collecting to unloading the bale – is controlled automatically, but semi-automatic or manual operation is also possible at any time.

The wrapping unit

The fastest single-arm wrapper in the market with an up to 36rpm orbiting speed
Quick-change film roll Dispenser
Flexible film pre-stretch and film break detector
Cut-and-tie system fixes the film and makes a clean cut

The KRONE EasyWrap is currently the fastest single-arm wrapper in the market. Although the wrapping arm orbits at an incredibly high 36rpm, it delivers an uncompromised quality of wrap – an achievement that is also attributed to the sensors that monitor all the machine functions.
Enquire Now!