Superior spraying
HARDI MERCURY is a premier mistblower with a sophisticated range of features and extra options, plus substantial capacity for larger orchard and vineyard operations.
Available with a 2000, 2300, 3000 or 4000 litre polyethylene tank, MERCURY can be configured with a number of powerful axial or turbine fan options for efficiently directing spray into standing trees, or in and around full vine and tree canopies.
The mistblower also features a 320 l/min HARDI 464 diaphragm pump, heavy duty gearbox, centrifugal clutch and precision high pressure fluid control system.
The result is a high capacity, high performance mistblower that is efficient, effective and very robust.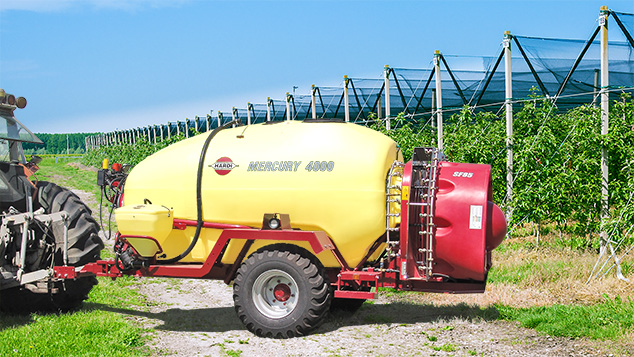 Features
Performance options

A strong, powder-coated chassis gives MERCURY a low centre of gravity for enhanced stability while the smooth tank is designed for easy cleaning.

The HARDI 464 diaphragm pump at the heart of the sprayer has been specially developed and refined for use with agricultural chemicals. With a dry, grease lubricated crank case for easy maintenance, it is rated to 20 bar and 320 l/min.

The fluid system is managed by a high pressure regulator and distribution system with constant pressure valves, and can be controlled from the tractor cab by a HARDI HC 5500 spray controller.

MERCURY can also be fitted with a range of tyre options, from small flotation tyres to large diameter wheels for high clearance.

Advanced air system

The MERCURY air system is connected via a heavy duty gearbox designed to drive a large fan at high power, to optimise efficient air throughput.

The 650mm or 850mm fan features shock and fragmentation-resistant composite fan blades, connected to the gearbox via a centrifugal clutch for smooth engagement. The streamlined polyethylene fan housing is aerodynamically optimised, with a clutch dome and air vanes to improve airflow and distribution around the fan.

The fan housing itself provides maximum impact resistance and safety.

High volume output

Axial fan MERCURY can be fitted with large stainless steel tree or vine deflectors, designed to maximise spray to the target and minimise off-target drift.

Adjustable deflectors with top vanes provide extra control over the spray, allowing less to escape over the tops of the target plants. Large adjustable bottom deflectors direct spray away from the ground and up into the underside of the canopy.

Turbine fans can be connected to a number of hydro-pneumatic air-sheer systems that target low volume spray directly into the plants with outstanding control, canopy penetration and drift. These include arrayed spray heads with 2 to 5 nozzles, the convergent COVAMAX system, and the high velocity CANNON.
Enquire Now!