Kubota's power krawlers offer exceptional traction, greater manoeuvrability and increased stability with a modified narrow and low clearance design. Powered by a reliable Kubota 84HP, E-CDIS, 4-cylinder, turbo charged diesel engine. Equipped with clever features to reduce soil damage, including a larger rear footprint which creates less compaction and damage to the soil. Features greater stability than competitor models with longer effective wheelbase and lower centre of gravity.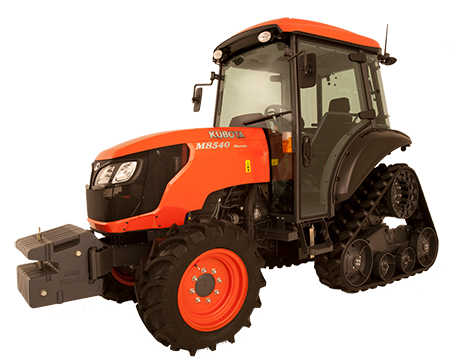 Features
Performance

Kubota's revolutionary new centre direct injection system (E-CDIS) engines offer more durability, power and fuel efficiency.
Kubota has engineered these models specifically for those who work in vineyards, orchards or anywhere else that might require a narrow and compact tractor with M-Series power.
Kubota's exclusive Bi-Speed Turn feature rotates the front wheels at a rate of speed nearly twice that of the rear wheels whenever the front wheels exceed a turning angle of about 30 degrees. The result is a smoother, tighter turn, allowing you to turn into an adjacent crop row on your first attempt.
Due to the Power Krawler's larger rear footprint, the weight of the tractor is dispersed more evenly, offering better flotation, less compaction and less damage to soil.
The Power Krawler's left and right crawlers oscillate independently. This means that both tracks can flexibly traverse bumpy surfaces, keeping both sides of the tractor in contact with the ground at all times.

Comfort

Whether you're trying to beat the heat on a hot summer day, or stay cozy during the chill of winter, the deluxe air conditioner/ heater puts you in charge of the climate.
All narrow cab models feature an air-conditioned cab that keeps the operator comfortable while on the job.
Enquire Now!