The new KWT1300 is a new addition to the KWT range with a 13.1m working width. This model will complement our trailed tedder lineup and provide large scale farmers and contractors with a machine built to last in the toughest Australian conditions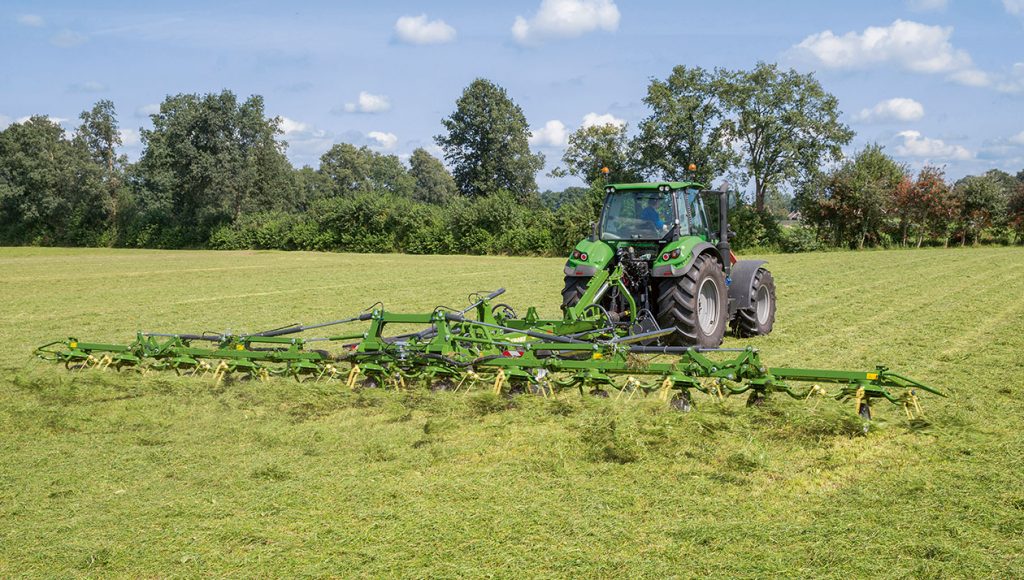 Features
Octolink

Krone's OctoLink clutches are always in mesh for full power and exceptional reliability.

Maintenance free and Frictional 8 Finger clutch combines powerful operation with low downtime and minimal preparation.  No Universal joints!

Robust & Heavy-duty tine arms (38 mm x 4 mm tube steel) and a special ring attachment system combine to provide dependable performance in our tough Australian conditions.

Forage Benefits

The two 9.5mm legs that form one pair of tines vary in length to provides the special Krone combing effect for optimum treatment and cleanest forage.

The tine arms mesh as they rotate, spreading the material uniformly across the working width to ensure the best possible wilt for quality forage.

Central border spreading control spreads the crop away from the boundary for easier harvesting.  Angle of the throw is adjusted without the need of tools so you can adapt in the field quickly.

Design

The permanently liquid greased enclosed gearboxes that drive the rotors are absolutely maintenance free. Permanent lubrication gives peace of mind and increases the machine's longevity. The chunky box section chassis absorbs all shock loads on the frame.

The rotors run on large wheels with inner tubes, which give excellent guidance for the cleaner sweeps and dependable operation.  Anti-Wrap guards are also a standard feature.

Dampeners for an enhanced ride quality: The internal compression spring prevents underrunning when working downhill and the adjustable brake prevents bouncing. Eladur spring elements enhance ride quality on bumpy dirt roads.
Enquire Now!