NEW FROM HIMAC – the hook-on hay spear can transform your sliding tyne forks into hay or combination forks instantly. Simply slide it on and latch lock to your skid steer sliding tyne pallet fork for an easy hay handling solution!
The hook-on hay spear attachment is a cost-effective way of dealing with square or round bales without purchasing a whole new hay fork attachment.
Best of all, flexibility doesn't come at the cost of convenience as these hook-on hay spears take only seconds to mount or detach, keeping you working smarter and faster.
Like all products from Himac Attachments, the hook-on spears are designed stand the test of time and to be put through hell and back on a daily basis. With a high-quality spear at an affordable price; you get the best of both worlds from Himac!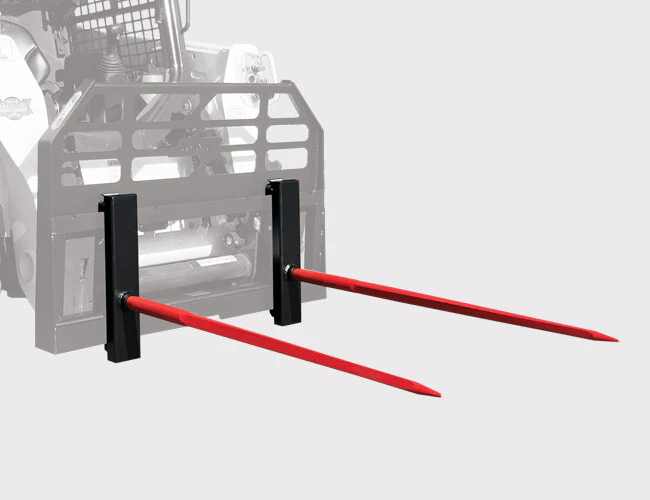 Hook-on Hay Spear Features

Quick to hook on to a Sliding Tyne Pallet Forks frame
Latch-locked for secure positioning
1200 mm Conus 2 Hay Spear

High quality German-made build

Can work in conjunction with general fork tynes to become a Combination Fork

What Do I Need To Use This?

The Himac Hook-on Hay Spear is designed to fit onto standard sliding tyne Pallet Fork frames – these are available for Skid Steers and Tractor Loaders. This innovative attachment add-on is an easy and affordable upgrade that take seconds to mount or unmount.
Enquire Now!