Heavy Duty Excavator Slasher
It's time to take slashing to new heights with a Himac Excavator Slasher. With the same heavy duty design and proven performance as our popular range for skid steers, you can now tackle vegetation faster than ever with your excavator.
Whether you're removing scrub, trimming back trees, clearing fence lines… Himac's powerful slashing attachment gives you increased efficiency and incredible value for money.
Including a reinforced slasher deck, safety chains, twin blade carrier and 3″ diameter cutting capacity; this excavator attachment is seriously packed with features!
Choose from three cutting widths to suit your application. Also available in combination excavator hitch / skid steer mount models.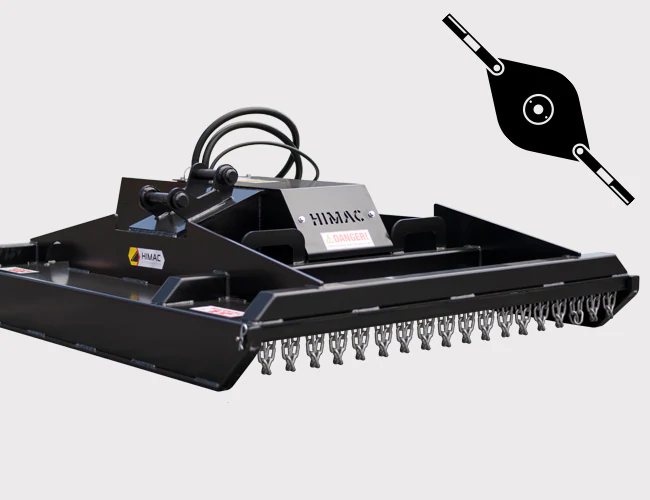 Features

Strong, reinforced slasher deck – 6 mm thick
Double blade carrier – heavy duty construction
Run down clutch protection
Cutting capacity up to 3″ diameter
Chains fitted on both sides for added safety
High speed hydraulics
Case drain fitted as standard
Complies with Australian safety standards
Includes hoses and couplings

Models / Cutting Widths

5 ft Slasher
60″ (1600 mm overall) – 1480 mm cutting width
5.5 ft Slasher
63″ (1710 mm overall) – 1600 mm cutting width
6 ft Slasher
72″ (1940 mm overall) – 1830 mm cutting width
6 ft Slasher High Flow
72″ (1940 mm overall) – 1830 mm cutting width
Enquire Now!