Adjustable Skid Steer Pallet Forks
Himac Skid Steer Forks are constructed with a highly visible, heavy duty load guard and has a tested and certified load rating that complies with Australian Standard AS2359. Each set features a universal mount (optional mounts also available) to make sure that our pallet forks suit all skid steers and loaders.
Himac's skid steer pallet fork attachment provides all of the advantages of a forklift whilst avoiding the poor visibility issues forklift drivers are plagued by.
If you often require to flip and reposition your pallet forks for improved versatility, these skid steer pallet forks are also available in a floating tyne model with no compromises to strength or reliability.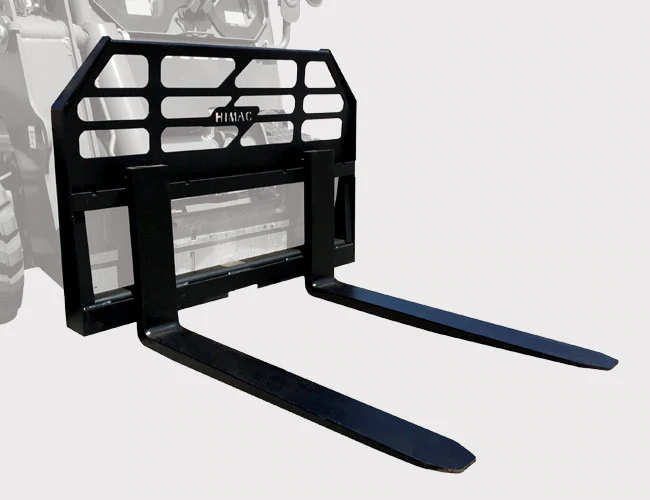 Pallet Forks Features

Tested and certified to comply with Australian Standard AS2359

Heavy duty load guard

Easy hook up with no hinging tynes

Adjustable latch locked tynes

Most popular style of forks in the industry
Universal Skid Steer mount as standard
Load capacities available:
1500 kg / 1.5 ton, 1800 kg / 1.8 ton, 2500 kg / 2.5 ton
NEW Forks+ Range of Add-Ons
Expand the versatility of Himac Forks with quick-install additions

Will it work with my machine?

All variants of Himac pallet fork attachments can be suited to most skid steer loaders. Our pallet forks are compatible with all types of Bobcat, Gehl, Mustang, Case, Takeuchi, Terex, Komatsu, Huski, New Holland, John Deere, JCB, Volvo, Cat as well as other machines. There's no messing around with a Himac, just lock your pallet forks on and get lifting immediately!

Optional mounts

Universal mount
Toyota Hitch SDK8, 9, 10, 11
ASV / Positrack PT30, RC30
Bobcat S70, 463, Gehl 1640E
Mustang
Enquire Now!